Yoga in IISc
The International day of Yoga was celebrated with great enthusiasm at IISc, for the third time under the leadership of Dr. S N Omkar. The student council had organized various events throughout the month of June. On 21st of June, a 108 Suryanamaskara challenge was organized, and the students who successfully completed it, received certificates.
The event was inaugurated by the Dr. Anurag Kumar, Director of IISc, which was followed by talks on various topics including Yoga and consciousness. A Yoga practice session was conducted at the end of the day. The program details are listed below.
Talk on "Yoga, Self-reflection and Consciousness" by Prof. Sangeetha Menon, NIAS.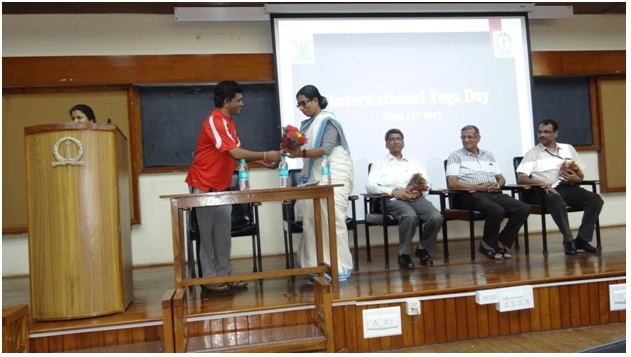 The esteemed speaker has Ph.D degree in biology and philosophy. Education includes fields of biology, philosophy and psychology. She is a gold-medalist and first-rank holder for postgraduate studies. Has been working in the area of consciousness studies for over eighteen years. She gave an enlightening talk including the Yoga sutras of Sage Patanjali.
Talk on "Foundations of Yoga and Structural Biology: by Prof. M R N Murthy, Molecular Biophysics Unit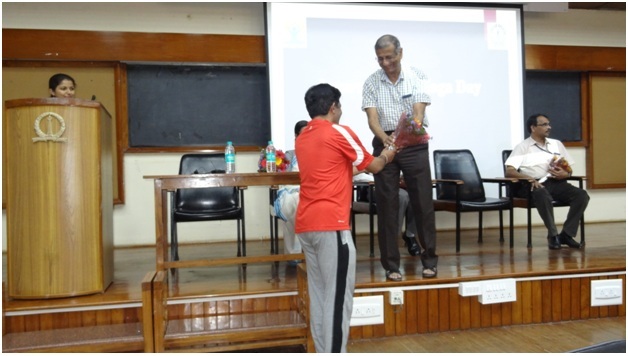 Prof. M R N Murthy is a Ph.D. holder in Organic chemical crystallography. Has completed Post-doctoral work (Protein Crystallography) from Purdue University, USA. He is currently teaching Macromolecular crystallography (MB 302). He gave a captivating talk on the yogic approach to life.
This was followed by Yoga practice session and some details are given below.
Yoga session lead by Dr. S N Omkar from Aerospace Dept.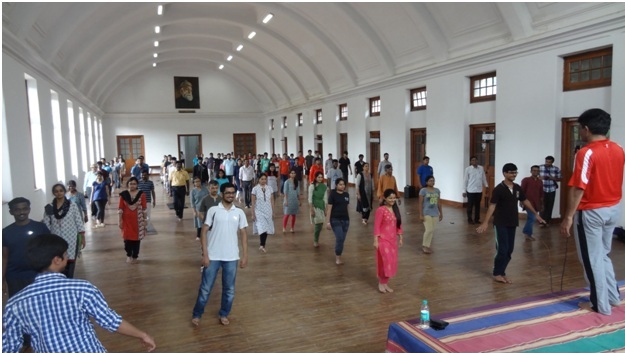 Dr. S N Omkar has been practicing and teaching Yoga since past 4 decades. Dr. Omkar is an Engineer by profession with BE (Mechanical), M.Sc. (Engineering), PhD in Aerospace Engineering. Currently Dr. S N Omkar is working as Chief Research Scientist at Indian Institute of Science, Dept. of Aerospace Engineering. He has appeared in many TV shows and was appointed as yoga coach for Karnataka cricket team.
Dr. Omkar spoke on the subject of Yoga and the approach to be taken. He stressed on the fact that Yoga needs to be practiced with "festive spirit" every single day. Below are some photos from the Yoga session he lead.
The event was followed by a Vote of Thanks to Dr. S N Omkar and refreshments.