Beetroot as biocontrol in mixed-cropping systems
-Priti Bangal
Untreated sewage water and animal-based manure are a common cause of contamination in agricultural fields. Often, water is scarce, and manure cheap, which makes the use of these unavoidable. Through this route, food-borne pathogens like Salmonella bacteria may cause infections in humans.
To address this problem, researchers from the Indian Institute of Science (IISc) and University of Agricultural Sciences (GKVK), Bangalore, have developed a strategy to use beetroot as a cultivation partner with other vegetables to arrest the growth of Salmonella in them.
The team, led by Dipshikha Chakravortty in the Department of Microbiology and Cell Biology (MCB), found that some compounds released by beetroot plants had antimicrobial properties that reduce the growth of pathogens in food crops. The researchers tested this using different approaches: treating roots with Salmonella and testing the effects of beetroot extract on them, cultivating beetroot in Salmonella-treated soil, and growing tomatoes and beetroot together in Salmonella-treated soil.


Representative confocal image showing dead Salmonella cells on root (Left). A cartoon showing that co-cultivation of beetroot with tomato can make the tomato safe for consumption (Right).
The compound secreted by the beetroot plants is water soluble and can spread across the field through irrigation, without any extra effort. Beetroot can therefore be used a biocontrol, according to Kapudeep Karmakar, one of the researchers and a former PhD student at MCB.
Food crops that are consumed raw are at a greater risk of Salmonella infection. This method can hence prove important in cultivation of salad crops. It is also cost-effective and therefore of immediate importance to small-scale farmers.
REFERENCE:
Karmakar, K., Krishna, S., Majumdar, S., Nath, U., Nataraj, K. N., Prakash, N. B., & Chakravortty, D. (2020). Co-cultivation of Beta vulgaris limits the pre-harvest colonization of foodborne pathogen (Salmonella spp.) on tomato. International Journal of Food Microbiology, 108768.
https://doi.org/10.1016/j.ijfoodmicro.2020.108768
LAB WEBSITE:
http://mcbl.iisc.ac.in/dclab/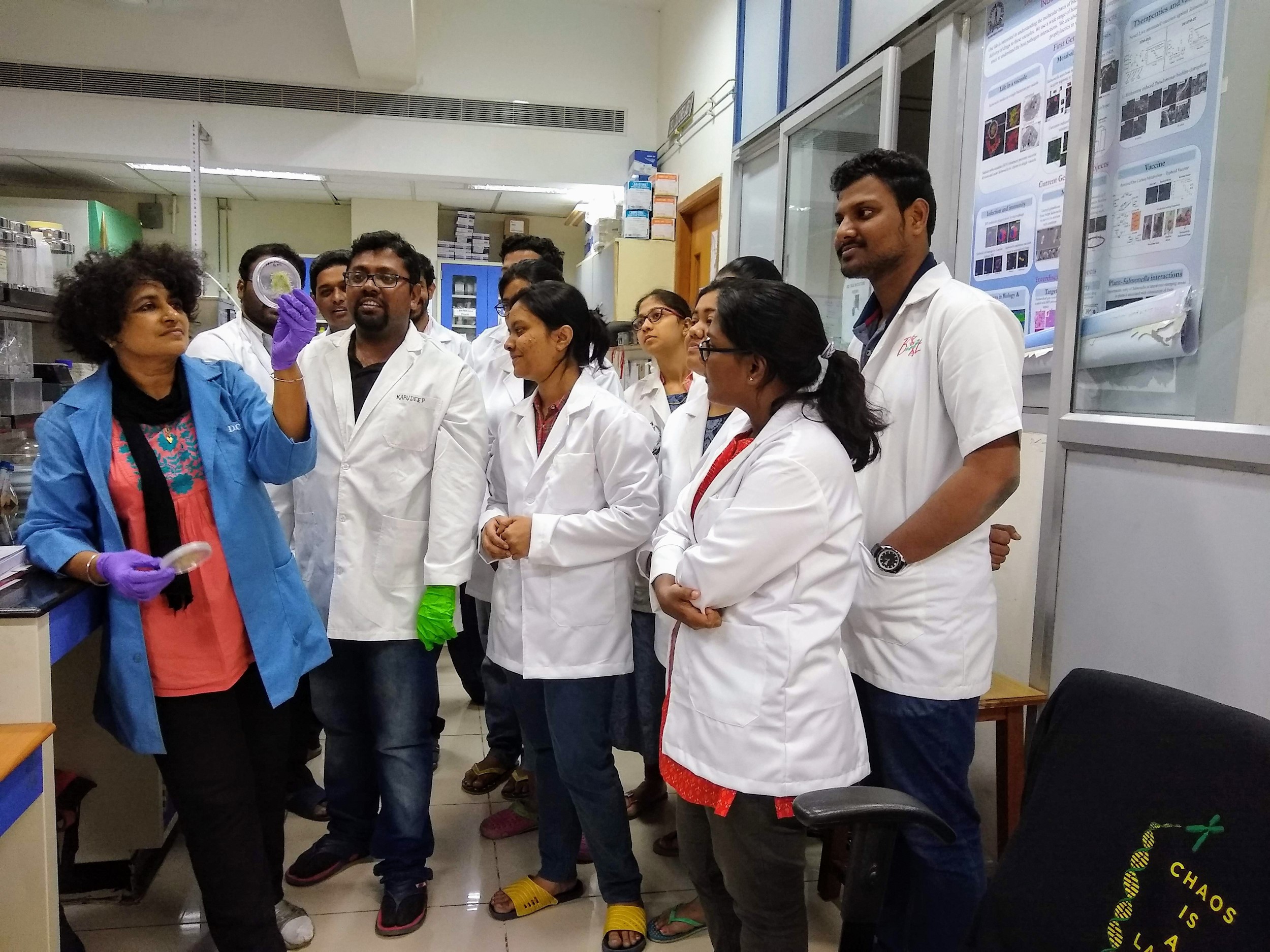 Prof. Dipshikha Chakravortty with her lab group