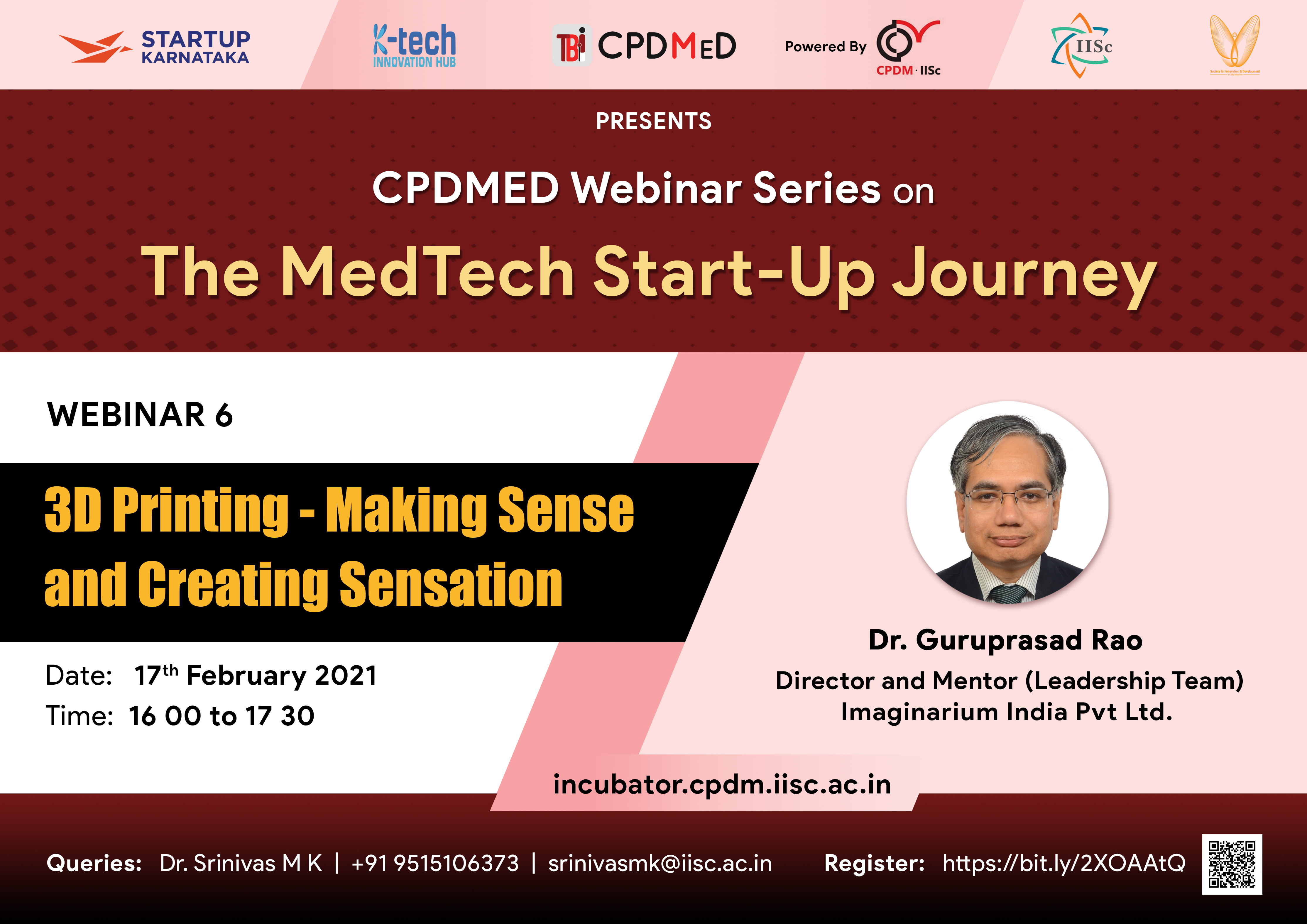 Date:     Wednesday, 17 – FEB – 2021
Time:    16 00 – 17 30
Register: https://bit.ly/2XOAAtQ
Abstract:
3D printing has been a next big thing since 1986. That is 34 Years and we still trying to understand and adopt. This is not without any reason. It was evolving and has now reached its tipping point. With steady investments into research into technology and materials, today it is offering a wide range of options to make things. 3D printing is unique in handling complex geometry. In fact, it is capable of making the impossible. The talk brings out its growth over the years and how it has become an important part of New Product Development process with few case studies. The talk will touch upon how 3D printing impacting Healthcare sector.
Speaker:
Dr Guruprasad Rao is a Director & Mentor (Leadership Team) at Imaginarium India Pvt Ltd., India's leading 3D printing company. His current focus is on DfAM for Metal 3D printing 3D printing Medical Applications, Skill development besides technology mentoring and partnerships across domains. Dr Rao is a technocrat with over 30 years of experience encompassing Industry & Academia. He holds BE (Mech) with PG in Tool Engineering from GTTC , M Des in Product Design from IISc, Bengaluru and PhD from IIT Bombay. For his terminal degree, he worked on Medical applications of 3D Printing. His industrial assignments include Titan, Tanishq, Crompton Greaves and presently at Imaginarium. He joined Imaginarium as CEO and is presently designated as Mentor – Director. He
has taught design at IISc, NIFT, JSSATE and NTTF. He was Professor & Head, Project Office IICD, Jaipur. He also teaches courses on Emerging technology and its impact at SPJIMR and KJ Somaiya Business Schools. He is also a mentor at KIIT-TBI, Bhubaneshwar and guides start-ups. Dr Rao is associated with many industry bodies such as CII /
FICCI / NASSCOM /BIS / IAMF / Atal Innovation Mission. Presently he is a part of Member, CII National Committee on Design (2019-2021).As CII Conference Chairman, he successfully led CII 3D Printing Conference 2019, Mumbai as Conference Chairman.
Email: gp@imaginarium.io
About Imaginarium
Imaginarium is a leader in 3D printing and advanced manufacturing technology, housing the largest set up of 3D printers in the country. Having pioneered game-changing applications for over 50 industries, Imaginarium has helped disrupt the manufacturing sector by enabling enterprises to prototype faster, design better and realize products in shorter time spans. We are grooming the next breed of makers and innovators for another manufacturing revolution.