Researchers from the Indian Institute of Science (IISc) are collaborating with their counterparts from a consortium led by James Hutton Institute, University of Glasgow and the Ashoka Trust for Research in Ecology and the Environment (ATREE) on a project funded by Scottish Government to deliver a low-cost, decentralized wastewater treatment system.
The pilot facility has been set up in a school – the Berambadi Primary School in the Chamarajanagar district of Karnataka – to serve the needs of its students and staff. It was inaugurated on 28 November 2018 by Scotland's Deputy First Minister Mr. John Swinney during an official visit to India.
At the launch, Mr. Swinney said that it was Scotland's duty to share its expertise and experience in the area of wastewater treatment with the wider world. Rachel Helliwell, Project Coordinator and a senior research scientist at the James Hutton Institute in Scotland, added that the initiative, which aims to improve public sanitation and environmental health in rural India, drew on the academic and research excellence of scientists from both Scotland and India. Following a screening of a short film tracing its journey, the event saw an interactive session on the lessons learnt from the project and the potential for new partnerships in wastewater treatment.
Lakshminarayana Rao, the lead researcher from IISc, says that the choice of a rural primary school to house the plant was a deliberate one. "Rural schools in India have a mid-day meal scheme. There's a lot of wastewater coming from the kitchen and handwash. This is a low-hanging fruit because this water can be recycled to be used in toilets for flushing," he explains.
Most wastewater we generate is called grey water (wastewater that does not originate in toilets). By contrast, wastewater which contains faeces and urine, and therefore pathogens, is referred to as black water.
To recover grey water, the Berambadi project uses, among other methods, plasma technology developed by Rao's team at IISc. "We're using a component of plasma to generate ozone which disinfects the water," he elaborates. His lab has developed a high-throughput ozonator which provides large volumes of ozone while ensuring that its energy demands are lesser than conventional technologies.
On the other hand, black water is treated before it is discharged by a multi-step anaerobic digestion process developed by the Scottish water scientists. This ensures that neither the groundwater nor the river downstream is contaminated.
Besides grey water recovery and black water treatment, the project also has a rainwater harvesting system which collects about 60,000 litres of water during the rainy season for use by the school. In addition, it has an incinerator to help dispose sanitary napkins. The entire system – as well as lighting for the school – is powered by solar energy, which Rao says makes it a "stand-alone, grid-independent system."
A critical feature of the project, which began over a year-and-a-half ago, has been its engagement with the local community. It has been designed keeping in mind the local socio-cultural and economic conditions as well as sanitation behaviours. "This initiative is hugely exciting because it integrates social science and new technologies to deliver on an ambitious and important Sustainable Development Goal: providing clean water and sanitation for all by 2030," says Helliwell.
Rao believes that this modular system can be replicated as well as scaled up. He says that these decentralised plants can also be built in urban settings like apartment complexes and educational institutions, especially those with hostels. According to him, by merely combining a grey water recovery system with a rainwater harvesting plant, the use of fresh water – which he describes as a luxury for a country like India – could go down by as much as forty percent.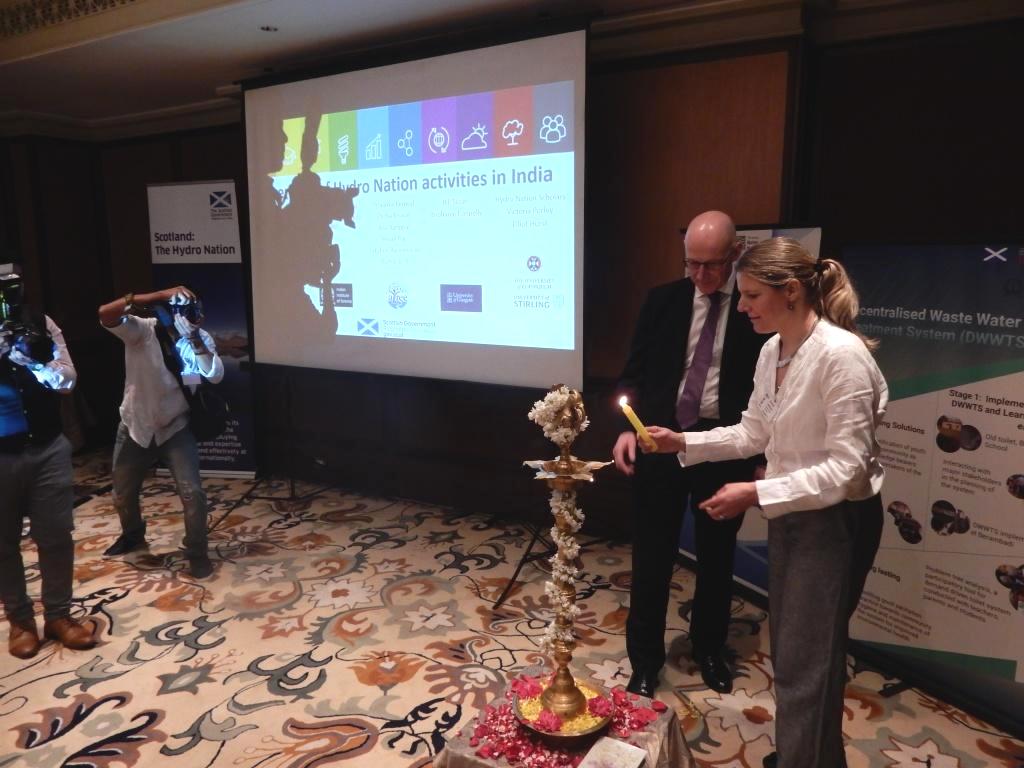 Dr. Rachel Helliwell, Project Coordinator and a senior research scientist at the James Hutton Institute, lights a lamp during the inauguration of the project. Scotland's Deputy First Minister John Swinney watches on.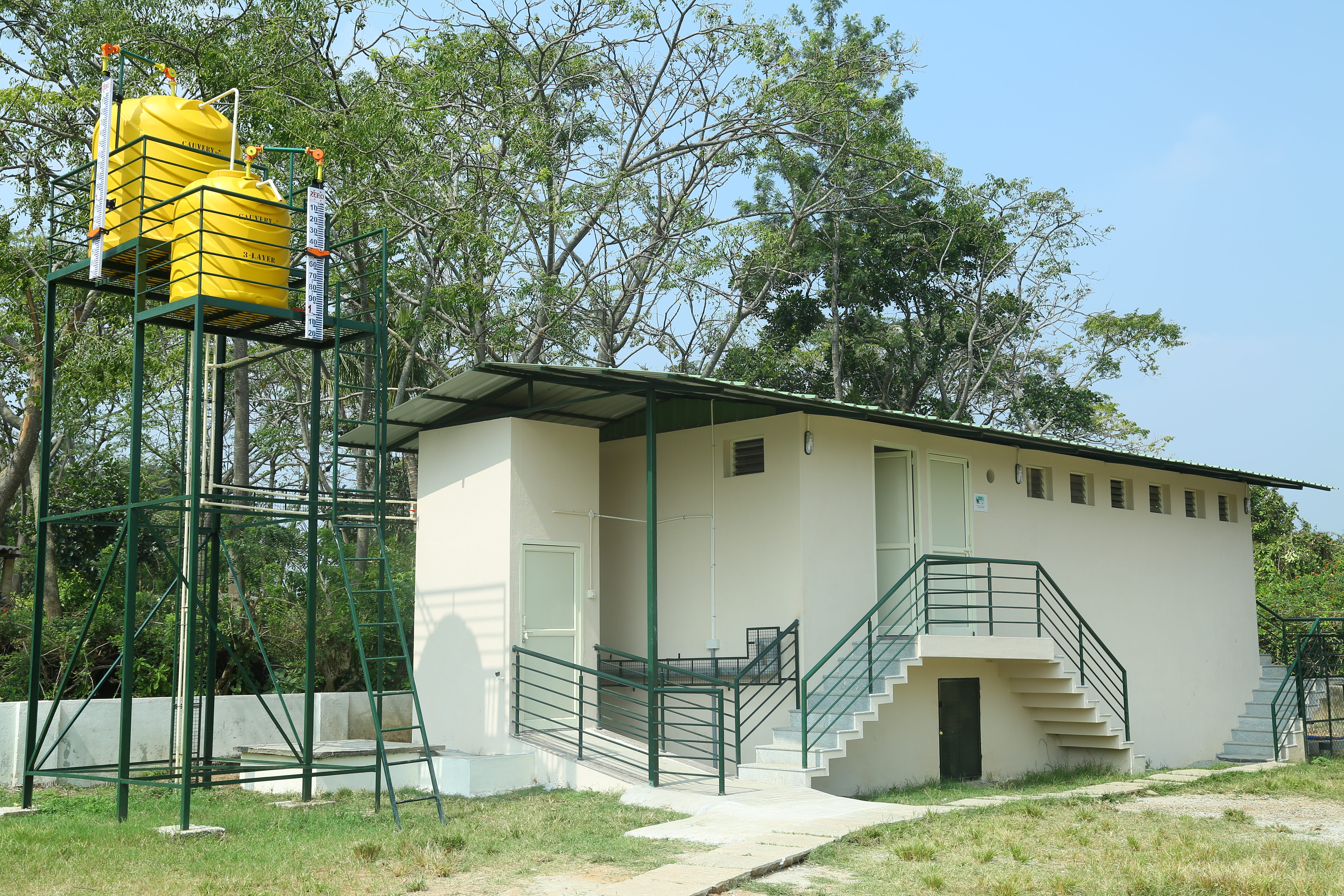 The toilet block at the Berambadi Primary School
CONTACT:
Dr. Lakshminarayana Rao,
Assistant Professor,
Centre for Sustainable Technologies,
Indian Institute of Science
Email: narayana@iisc.ac.in | Phone: 080-2293 2051