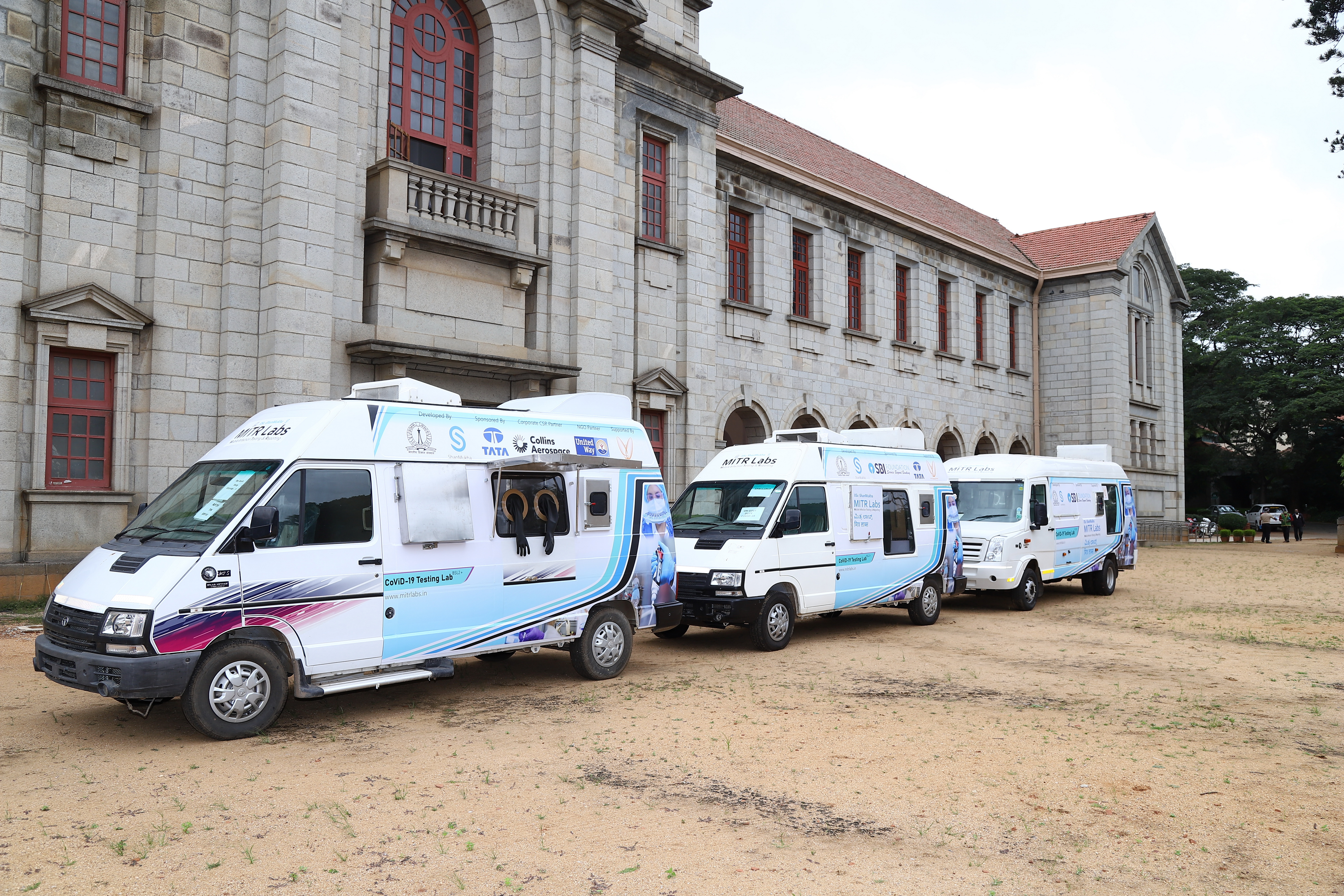 An end-to-end COVID-19 testing solution called Mobile Infection Testing and Reporting (MITR) Labs has been developed by faculty members at the Indian Institute of Science (IISc), in collaboration with an IISc-incubated startup called ShanMukha Innovations.
MITR Labs is India's first and only Biosafety Level two plus (BSL 2+) compliant mobile diagnostic lab approved by the Indian Council for Medical Research (ICMR). The mobile labs ‒ which consist of a fleet of vans ‒ allow healthcare workers to collect, process and test samples using RT-PCR onsite, and upload results directly to the ICMR portal. RT-PCR is considered the gold standard for the detection of the novel coronavirus.
On Wednesday, 5 August 2020, the mobile vans were handed over to Dr. S Sacchidanand, Vice Chancellor, Rajiv Gandhi University of Health Sciences (RGUHS) and Dr. CR Jayanthi, Director, Bangalore Medical College and Research Institute (BMCRI), in the presence of Dr. K Sudhakar, Honourable Medical Education Minister of Karnataka, and Prof. Govindan Rangarajan, Director, IISc, as well as other senior representatives and faculty members from the three institutions.
The turnaround time to obtain results with these mobile labs is between four to 12 hours, a significant reduction from the two to ten days taken to get results in traditional medical diagnostic labs.
The office of the Principal Scientific Advisor to the Government of India played an instrumental role in facilitating CSR support for this endeavour from prominent organisations. Contributions were received from Tata Motors for two mobile vans. Additional funding was received from Collins Aerospace through United Way (Bengaluru) and Borqs software solutions. The Government of Karnataka has also extended its support for this fleet.
SBI Foundation, the CSR arm of SBI, contributed towards the design and development of the internal infrastructure of two mobile vans as per approved designs for conversion to mobile labs. It also supported the purchase of one mobile van. "The COVID-19 outbreak has brought on a plethora of problems. Therefore, it is imperative to encourage and promote innovation through R&D efforts with a view to find solutions to fight this deadly virus. We are hopeful that this solution will be effectively scaled up to create large scale impact," said Smt. Manjula Kalyanasundaram, Managing Director, SBI Foundation.
MITR Labs strictly adhere to the World Health Organisation (WHO) and ICMR guidelines for sample handling, and provide the highest levels of safety for technicians. The mobile labs have the capacity to process between 6,000 to 9,000 samples per month with the potential to scale up with additional equipment and manpower, thus adding to India's response to the COVID-19 challenge. Rapid deployment of the MITR Labs to emerging hotspots and containment zones will help identify and control the
spread of infection.
The mobile labs would be operated by BMCRI with support from RGUHS. Being a fully functional molecular diagnostics lab, the MITR Labs can also be used to test for other viral and bacterial infections, such as H1N1, HCV, HBC, and TB.
About IISc
The Indian Institute of Science (IISc) was established in 1909 by a visionary partnership between the industrialist Jamsetji Nusserwanji Tata, the Maharaja of Mysore, and the Government of India. Over the 111 years since its establishment, IISc has become the premier institute for advanced scientific and technological research and education in India. Since its inception, the Institute has laid a balanced emphasis on the pursuit of basic knowledge in science and engineering, as well as on the application of its research findings for industrial and social benefit.
About SBI Foundation
SBI Foundation is the Corporate Social Responsibility arm of the State Bank of India, which was launched in 2015 to carry out its CSR activities, as well as those of its subsidiaries. The SBI Foundation aims to be the leading institution promoting growth and equality to the communities it serves, particularly the vulnerable and marginalised sections of the society. It is committed to contribute positively to priority areas of healthcare and sanitation; education; women empowerment; sustainability and environment; empowerment of persons with disabilities; and arts, culture and heritage.
Recently, the SBI Foundation launched the COVID-19 Relief Fund to seek donations from its customers, employees, corporate clients, other public sector banks and undertakings, and other corporates. With the contribution under the COVID-19 Relief Fund, SBI Foundation constructively engaged in collaborative and proactive action by supporting short-term and long-term projects to fight the COVID-19 pandemic in India. The SBI Foundation also launched the India COVID-19 Healthcare Alliance (ICHA). This new collaborative healthcare programme aims to bolster and build on the current public healthcare system and interventions to contain the spread of the novel coronavirus.
About Tata Motors
Tata Motors Limited (NYSE: TTM ;BSE: 500570 and 570001 ; NSE: TATAMOTORS and TATAMTRDVR ), a USD 44 billion organization, is a leading global automobile manufacturer of cars, utility vehicles, pick-ups, trucks and buses. Part of the USD 110 billion Tata group, Tata Motors is India's largest and the only OEM offering extensive range of integrated, smart and e-mobility solutions. It has operations in India, the UK, South Korea, Thailand, South Africa, and Indonesia through a strong global network of 134 subsidiaries, associate companies and joint ventures , including Jaguar Land Rover in the UK and Tata Daewoo in South Korea.
With a focus on engineering and tech enabled automotive solutions catering to the future of mobility, Tata Motors is India's market leader in commercial vehicles and amongst the top four in the passenger vehicles market. With 'Connecting Aspirations' at the core of its brand promise, the company's innovation efforts are focused to develop pioneering technologies that are sustainable as well as suited to the evolving aspirations of the market and the customers. Tata Motors strives to bring new products that fire the imagination of GenNext customers, fueled by state of the art design and R&D centers located in India, UK, US, Italy and South Korea. Internationally, Tata commercial and passenger vehicles are marketed in countries, spread across Africa, the Middle East, South Asia, South East Asia, South America, Australia, CIS, and Russia.
About Collins Aerospace
Collins Aerospace Systems is a leader in technologically advanced and intelligent solutions for the global aerospace and defense industry. Collins Aerospace has the capabilities, comprehensive portfolio and expertise to solve customers' toughest challenges and to meet the demands of a rapidly evolving global market. With 2019 net sales of approximately $26 billion, the business has 78,000 employees across more than 300 locations globally. It is one of the four businesses that form Raytheon Technologies. For more information, visit CollinsAerospace.com .
Contact Information:
Communications: Public Relations Office ( pro@iisc.ac.in ); Office of Communications (news@iisc.ac.in)
For technical information: Prof. Sai Siva Gorthi,  saisiva@iisc.ac.in and
Prof. Deepak Kumar Saini,  deepaksaini@iisc.ac.in
For making CSR contributions to IISc: Dr. Ram Turaga,  cdc.odaa@iisc.ac.in