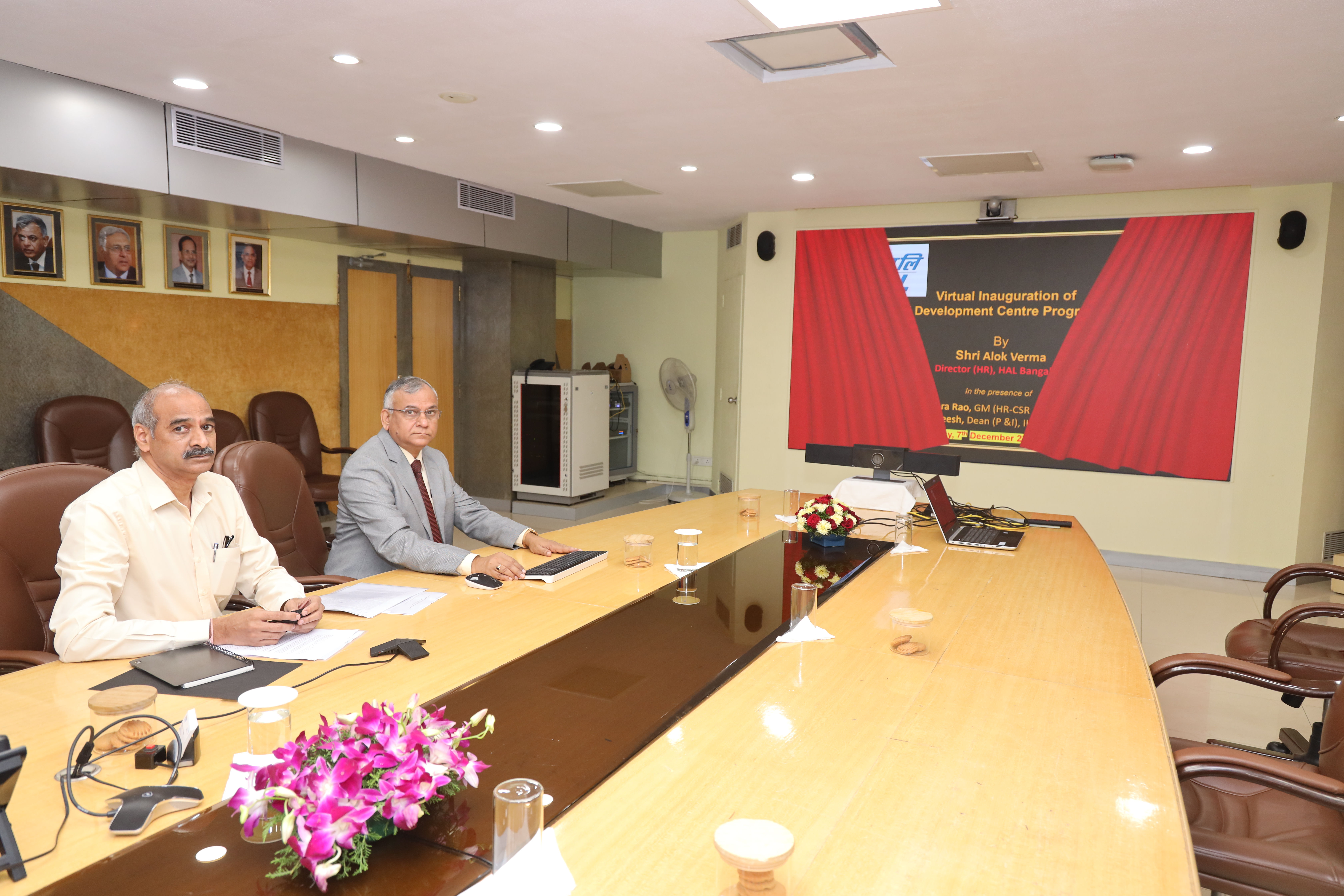 On Monday, December 7, 2020, Shri Alok Verma, Director (HR) of Hindustan Aeronautics Limited (HAL) formally launched the first training programme being organised under the HAL-IISc Skill Development Centre (SDC) at Challakere, Chitradurga – a workshop on IoT and Embedded Applications. The inauguration was carried out remotely in the presence of Ch Venkateswara Rao, GM (HR-CSR & FM), HAL and Prof S K Satheesh, Dean (Planning & Infrastructure), Indian Institute of Science (IISc).
During the inauguration, Verma said, "The HAL-IISc skill development programme is ambitious and meets the needs of the country by training the trainers, therefore having a multiplier effect." Dr Subba Reddy B, Convener of the HAL-IISc SDC stated that the Centre's activities will start with five courses planned to be offered in the first cohort in the virtual mode during December 2020 to February 2021.
The HAL-IISc SDC was formally inaugurated on August 13, 2020 by Shri Rajnath Singh, Defence Minister of India. It was set up as a partnership between HAL and IISc to impart high-end skills related to the aerospace domain and manufacturing-related sectors, in line with the goals of the Atmanirbhar initiative.
The Centre is located in IISc's new 1,500 acre campus in Challakere, Chitradurga district ─ 225 km from its Bengaluru campus ─ in what is being projected as a Science and Technology city. IISc's neighbours here include the Defence Research and Development Organisation (DRDO), the Bhabha Atomic Research Centre (BARC) and the India Space Research Organisation (ISRO).
IISc had envisioned establishing a centre to create a large pool of trained personnel in order to address vital skill development gaps in the nation. In 2016, IISc approached HAL to partner in this unique project. With a shared vision of social good, HAL agreed to fund it as a CSR project. The MoU for establishing the SDC was signed on March 28, 2016, and construction commenced on October 27, 2016. The total project cost is Rs 73.7 crore and covers the construction of the buildings and lab equipment. 2
Spread over 75,000 sq. ft., the SDC will be equipped with modern labs, class rooms and an auditorium capacity of 250 people. There is also provision for residential accommodation to 250 trainees and faculty members. The Centre will also host the teachers training programme operational since 2011, which has trained over 13,500 science and mathematics teachers at the high school, college and university levels.
Once fully functional, the Centre will be able to train about 1,000 trainees every year. The focus is to train the trainers who can, in turn, train more trainees, thus leveraging the multiplier effect. Three areas for training have been selected by the joint HAL-IISc technical committee for the immediate future: composite materials, sensors and IoT, and manufacturing systems.
The beneficiaries of these programmes will be experienced engineers, supervisors and faculty members of various technical institutes. The training will cover both skill upgradation as well as developing new skills. The uniqueness lies in their emphasis on learning by doing. Trainees will spend more than 50% of the course duration in labs, conducting experiments. Faculty members will be selected from IISc and other leading organisations including HAL.
The SDC programmes being offered are in the niche engineering areas of aerospace, mechanical, electrical and electronic sectors, and in line with the "Make in India" mission. Through this collaboration, two of India's finest organisations, a Navaratna status Public Sector Company (HAL) and a centrally-funded Institution of Eminence (IISc) have embarked on a path to provide skill upgradation and development in these important areas.
CONTACT :
Public Relations Office (pro@iisc.ac.in); Office of Communications (news@iisc.ac.in)
For technical Information : Dr Subba Reddy B, Convener, HAL-IISc-SDC (office.sdc@iisc.ac.in)
For Making CSR Contributions to IISc : Dr Ram Turaga, 9448987200 (cdc.odaa@iisc.ac.in)