Location: CeNSE Auditorium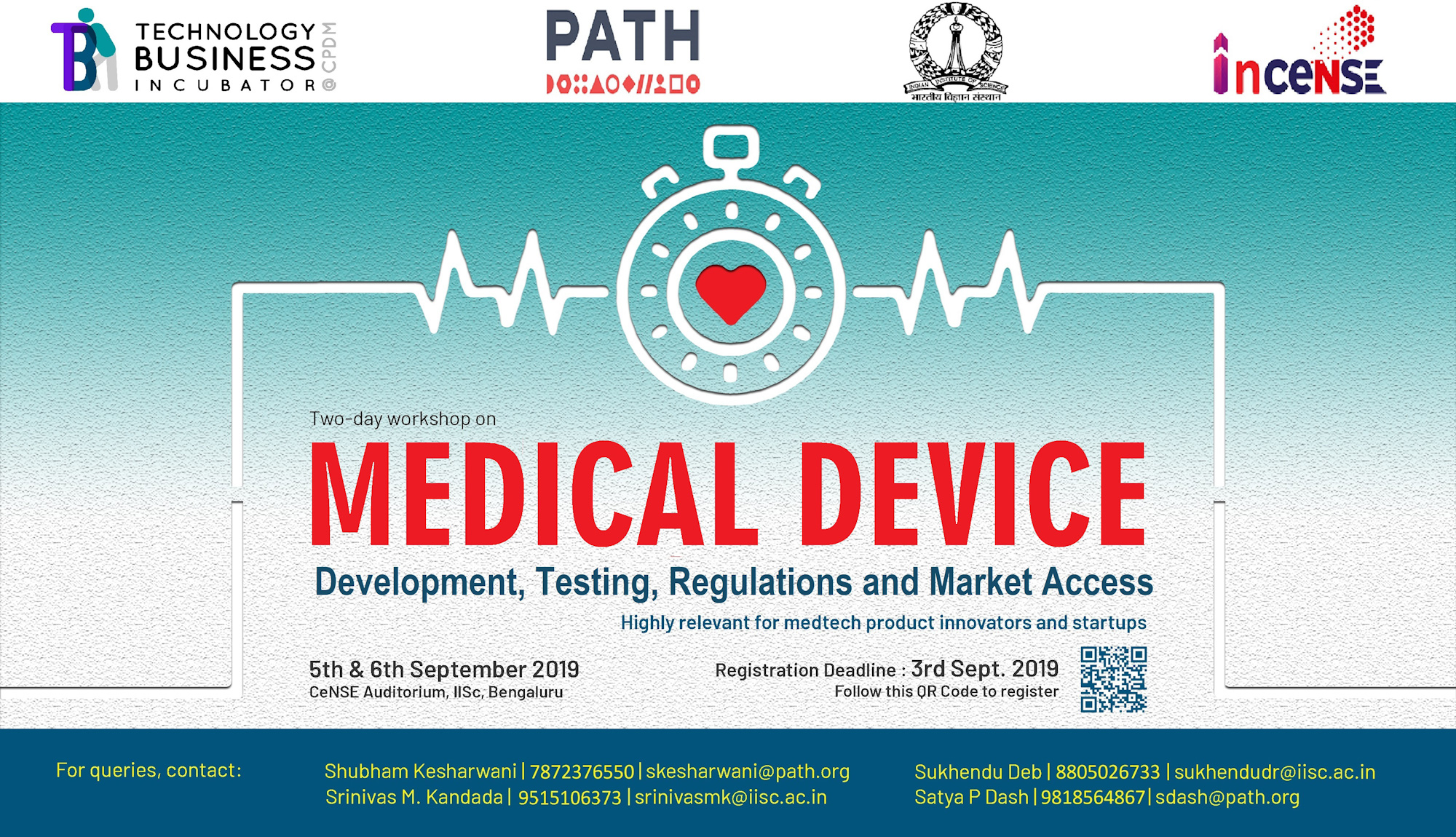 Every ideator, innovator, start up or medical device manufacturer dreams and strives to realise PoC to Market Ready accelerated development and market adoption of innovative medical devices. Every one of us in MedTech Innovation would like to cut the slack, identify the critical path and gather the right information to save time. We all would like and hope to have a systematic discussion on the associated topics.
In pursuit of realising this hope, CPDM Med TBI, IISc in collaboration with Incense TBI, IISc and Tata Trusts PATH Impact Labs is organizing a two-day workshop on
"Medical Device: Development, Testing, Regulation & Market Access"
Aim :
To help MedTech start-ups in different stages of product engineering , testing for compliance and certification to anticipate preparatory requirements to face the challenges in bringing the PoC Ready state through to the Market Ready State.
Coverage : 1. Safety and Performance testing
2. Quality management
3. Sensor technologies in MedTech
4. Regulatory requirements – CDSCO & FDA, manufacturing readiness, certification and global market access.
5. Vendor management
6. Clinical study design
7. Avenues of funding for scale in med-tech innovation ecosystem.
Dates and Days : Thursday, 5th September & Friday, 6th September 2019
Venue : Cense Auditorium, IISc Bengaluru
Registration Fee : 1000/-
Bank Account Details :
SB A/c No: 0683101018843
Name: Society for Innovation and Development (SID)
Bank Address: Canara Bank, IISc Campus, Bangalore 560012
Branch Code: 0683
IFSC Code: CNRB0000683
Click here for agenda