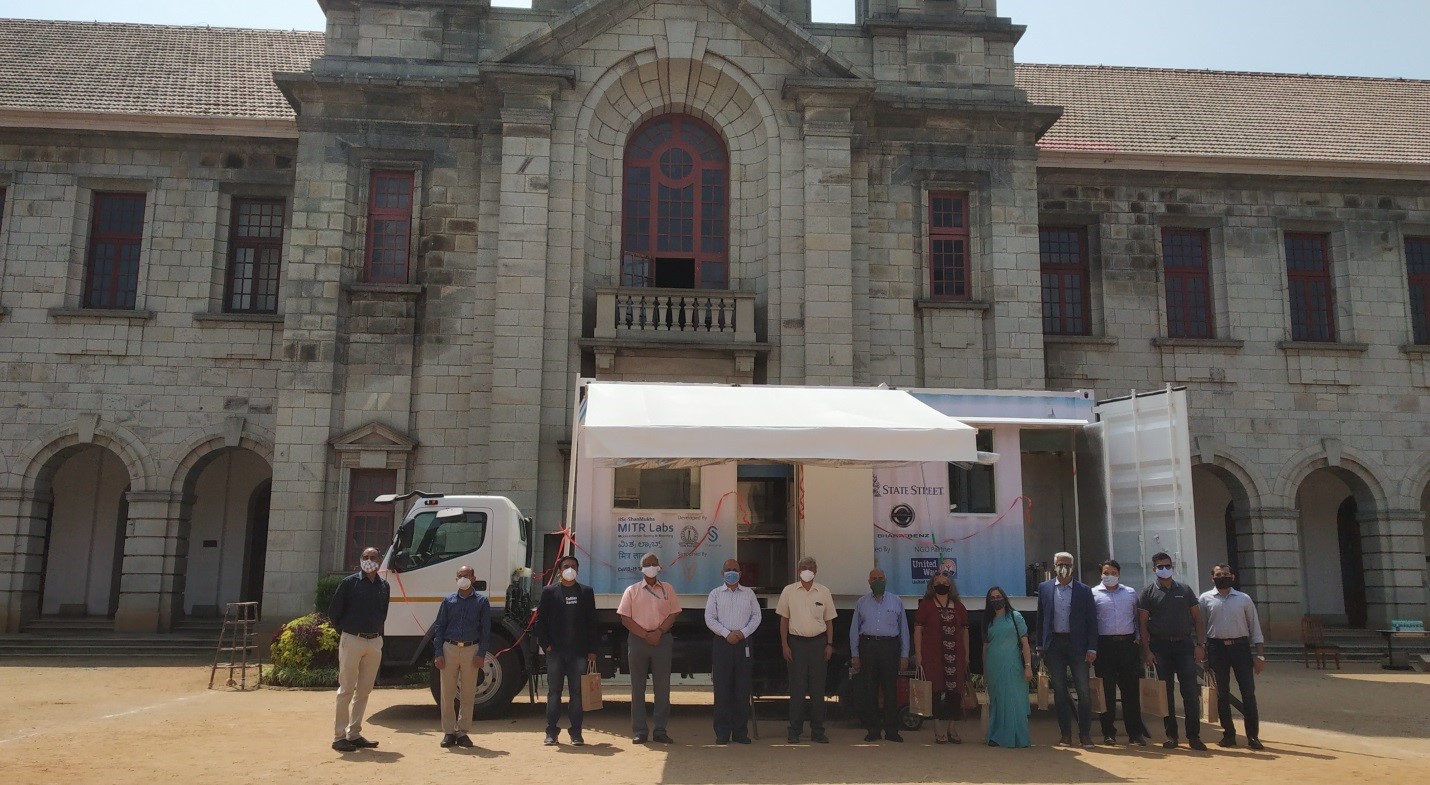 Under the guidance of the Office of the Principal Scientific Advisor to the Government of India, research institutions across the country stepped up to fight the COVID-19 pandemic with various innovations aimed at providing low-cost virology testing facilities. IISc and SID were at the forefront in this endeavor, and with support from United Way Bengaluru, an NGO, and in partnership with Corporate Partners ‒ Parexel, State Street and Bharath Benz ‒ designed a mobile diagnostic lab called M4 Nodal Hub. This is part of the MITR Labs series of which 3 satellite mobile labs were made ready in July 2020.
This first-of-its-kind mobile lab is fully equipped with BSL-2+ infrastructure and instruments including mini-spins, vortex mixers, centrifuge, pipettes, and equipment to carry out RT-PCR testing, which is considered the gold standard for the detection of the novel coronavirus, SARS-CoV-2.
Besides the earlier mobile labs equipped for sample collection and inactivation (M1), RNA extraction (M2), and RT-PCR testing (M3), the M4 Nodal hub is a 20 feet container on a Bharat Benz chassis intended for storage of samples and kits, biomedical waste management and master mix preparation. This unit can also function as an independent testing unit with the recently launched CRISPR FELUDA test by Tata Medical and Diagnostics, and can be used for research and vaccination drives as well.
Also named as Mobile Infection Testing and Reporting (MITR) Labs, the fleet of vehicles has been designed and developed by an IISc team jointly with the SID-incubated startup ShanMukha Innovations, and approved by the Indian Council of Medical Research (ICMR).
"There are multiple essential components in tackling COVID-19 pandemic which have come together in this high-quality Mobile Lab initiative: combination of testing (of different types), vaccination and tracking the effectiveness of the vaccination. This is a testimony to the extraordinary co-operation that this terrible pandemic has allowed amongst our institutions, entrepreneurs and academic institutions," said Prof K VijayRaghavan, Principle Scientific Adviser to the Government of India.
United Way Bengaluru (UWBe), an NGO facilitated the CSR support towards developing the Nodal Hub from its corporate partners. "Mobilizing the caring power of communities is our ethos and UWBe is grateful to all our corporate partners who also believed in the same ethos and came forward to support this initiative," said Rajesh Krishnan, Executive Director, United Way Bengaluru.
"COVID-19 has presented significant challenges for the medical industry," said Sanjay Vyas, Senior Vice President, India Country Head & Managing Director. "As a leading global clinical research organization (CRO) contributing to the development of more than 150 new therapies in the fight against COVID-19, Parexel is pleased to support this important initiative bringing labs to patients."
"We believe multi-stakeholder collaboration is the best way to manage the COVID-19 outbreak or any other health crisis. We are happy to be part of this collaboration to support the nation in its fight against the pandemic," said Sri Pools, India Country Head at State Street.
"Without the support of our colleagues across different departments and administration at IISc, SID, ShanMukha Innovations, external experts from RGUHS, PSA's office, GoK Health and Family Welfare, NGO and Corporate CSR Sponsors, it is hard to imagine that any of these developments would have been taken up during the lockdown period and pursued till this stage," said Prof Sai Siva Gorthi, Associate Professor at the Department of Instrumentation and Applied Physics at IISc, and the principal investigator of this Mobile Labs project.