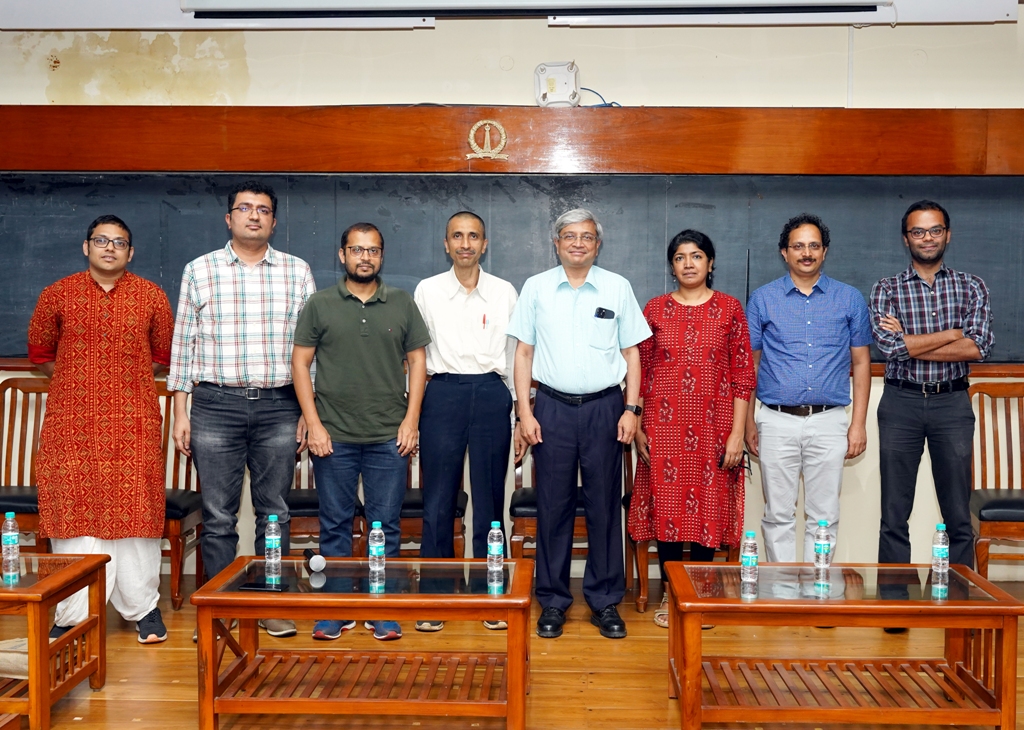 The winners together with the Director, Prof GovindanRangarajan (Photo: KG Haridasan)
On the occasion of Teachers' Day 2022, IISc recognised teachers who went above and beyond in their efforts to revitalise the student learning experience. In acknowledgement of a wide spectrum of innovative methods they employed to connect with students, six members of the faculty — senior and junior — were felicitated with the IISc awards forExcellence in Teaching.
List of winners for 2022:
Deepak Subramani (Assistant Professor, Department of Computational and Data Sciences)
Gugan Chandrashekhar Thoppe (Assistant Professor, Department of Computer Science and Automation)
Samay Pande (Assistant Professor, Department of Microbiology and Cell Biology)
GR Jayanth (Associate Professor, Department of Instrumentation and Applied Physics)
Kavita Isvaran (Associate Professor,Centre for Ecological Sciences)
Chandrashekhar S Jog (Professor, Department of Mechanical Engineering)
More about the winners of the first IISc Awards for Excellence in Teaching:
Assistant Professors:
Deepak Subramani (Computational and Data Sciences)
Dr Subramani has introduced a state-of-the-art course design concept called 'backwards design' that has been very well received by his students. He has also introduced an innovative new course combining machine learning and deep learning with geosciences to train AI/ML practitioners in the areas of atmospheric, ocean and earth sciences. Through the CCE Proficience Programme, he has also offered courses on mathematical topics for working professionals, blending rigour and accessibility.
Excerpts from student feedback:
In one word – Rockstar.
It was truly an amazing experience to learn from Dr Deepak Subramani. The teaching is so excellent that I would never forget a single lesson he taught.
The course topics are well defined and well explained. Deepak sir always explains concepts and the motivations behind concepts. This makes someone like me who is new to the subject, feel comfortable, and slowly digest big concepts. The course was conducted with utmost integrity and professionalism. The classes always started bang on time. I thank the Professor for maintaining such high integrity.
Gugan Chandrashekhar Thoppe (Computer Science and Automation)
Dr Thoppe has been teaching a diverse set of large courses and has received exceptional student feedback in all of them. His interactive style of teaching has found strong favour among students. He has introduced a new course called Computational Topology: Theory and Applications. Topics in this course build upon the concepts from algebraic topology, computational data science, and statistics. This course has appealed to a diverse set of students.
Excerpts from student feedback:
I love his emphasis on all the small details of mathematics that we might just miss. Superb clarity in his lectures and amazing intuition behind "hard math".
His lectures have the perfect blend of rigour and intuition in addition to being so complete that one need not refer anything else. Probably the next Dr Balki or Dr Feynman in terms of delivery.
Excellent efforts when teaching the subject. Goes out of the way to make the students understand the concepts. Very motivating and with high principles and beliefs. An asset to IISc.
Samay Pande (Microbiology and Cell Biology)
Dr Pande has introduced novel methods of teaching using games that encourage active classroom engagement. He introduced a new module in the course Essentials of Microbiology. This module is inspired by the popular EMBL workshop on Modern Methods and Concepts in Microbiology, and helps students stay up-to-date with the cutting-edge topics covered in class. In the Developmental Genetics course, Samaydiscusses topics that connect developmental biology with evolution, ecology and development. He uses the strategy of supervised 'flipped classroom' exercises to ensure that students learn effectively.
Excerpts from student feedback:
You are an AMAZING EDUCATOR. You teach in style. Excellent grasp on the subject. Great Teacher. PERIOD. You actually managed to make me like ecology (which I hate).
His presentations are very impressive. I have learned so many fascinating microbiology experiments that I have regained my interest in Microbiology.
Classes were super fun and great learning environment, lots of interesting and novel topics were offered and provided a different perspective on microbiology.
Associate Professors:
GR Jayanth (Instrumentation and Applied Physics)
Prof Jayanth's teaching portfolio, built over more than a decade now, consists of a diverse set of large interdisciplinary courses. Among them the course on Control System Design stands out for several reasons. He has structured it in a unique way to make it relevant to students from varied backgrounds like DESE, EE, ECE, AE, ME, CE, CeNSE, RBCCPS, ICER, CPDM, CDS and also to undergraduates. Being a design-centric course, the assignments are interactive, and the evaluation process emphasises on meaningful and inclusive learning. His efforts over the years have crafted the course into a piece of fine art – one that forces introspection and reinforces the paradigm of learning well.
Excerpts from student feedback:
The best teacher I have come across since I started studying engineering. Thanks to him, many of the fundamental aspects of Control Systems are now clear to me forever. His patience, humbleness, choice of English words, method of teaching (mix of blackboard and projector), his challenging exam questions, encouragement of discussions, acknowledging students' queries, and above all, his attitude of admitting if he doesn't know something have deeply inspired me and left an indelible mark on my mind.
We are very grateful to have Jayanth Sir in IISc. He is one of the best Control Engineers around the world, and a very patient mentor. This combination makes him one of the best instructors the Institute has. He is treasured by the student community, and we wish we could get more time with him to learn more.
Kavita Isvaran (Centre for Ecological Sciences)
Besides successfully teaching a wide variety of courses at CES over the past 15 years, Prof Kavita Isvaran's key contribution to teaching lies in addressing the need for good study design, followed by good practice in data analysis and inference. In her classes, she combines study design, statistical inference, and modern approaches to data analysis within the realm of ecology. There is a strong practical component as well that encourages students to apply these techniques in their work. All this has resulted in a set of notes that have been painstakingly put together and fine-tuned over the years. They fill an acutely felt lacuna in the availability of resource books that deal with asking and answering questions in ecology.
Her efforts in this direction have been critical to the success of a large number of students and research groups, both at IISc and elsewhere. She is widely regarded as one of the best teachers in CES and in quantitative ecology by the global ecological community.In the last couple of years, she has made a committed effort to conduct workshops in quantitative ecology for less privileged students across the country.
Excerpts from student feedback:
Brilliantly handled. Loved the course.
I hated coding before attending this course, but now I have started enjoying the same. Thank you for inspiring and guiding us. Classes were super cool!
M'am teaches very sweetly. She patiently goes over the same thing many times, making every point very clear. She is very accessible. I loved her course!
Professors:
Chandrashekhar S Jog (Mechanical Engineering)
For someone whose career at IISc spans more than 25 years, merely counting the number of courses taught makes for a prosaic statistic. In Prof Jog, we have a colleague whose command of the subject of continuum mechanics and unrelenting commitment to teaching is part of the folklore among ME students. It is this commitment that is regularly mentioned by students at farewell functions or alumni meets.
He has taught a UG course and an MTech course on Solid Mechanics, and several others on Continuum Mechanics, Finite Element Methods and Engineering Mathematics with unfailing regularity. The meticulously compiled notes from these courses now exist as two large books published by Cambridge University Press, Foundations and applications of mechanics Vol I: Continuum mechanics, and Vol II: Fluid mechanics. Both are comprehensive treatises on these subjects and Prof Jog has invested endless hours working on them. Several of his students are now faculty members at other institutes, and their words beautifully summarise the persona of Prof Jog.
Excerpts from student feedback:
Former Student A: I am yet to find a department alumnus whose way of thinking about the technical contents has not been fundamentally altered by Prof Jog's teaching. His focus on starting everything from basics and then systematically going step by step in a mathematically rigorous manner has taught students a great deal. His teaching is supplemented by innovative question papers. In every interaction I had with him, I learned something substantial. Apart from technical knowledge, I have learned a great deal about professional conduct. His dedication to students is exemplary. Despite his bad health, he ensured that my thesis was submitted at the expected time. He has so much patience; it is just incredible. He goes through every step so minutely and with so much calmness. I hope I can live up to his high standards in my own professional life. In all my humbleness, I do not think that even Prof Jog realises the profound impact his teaching has had on IISc students.
Former Student B: I must mention the sound work ethics of Prof Jog. In my seven and a half years at IISc, barring Sundays and a few other exceptions, I always saw his eternal bicycle in the same place from 9 am to 5.30 pm. He was always available to his research students. His two volumes [on continuum mechanics] are priceless in their unique content. There are many hidden gems (to his credit) in fields like elasticity, vibration, dynamics, acoustics, compressible and incompressible fluid flow. This, in a true sense, conveys that everything is a continuum. When I appeared for exams, that was the only subject where I needed to prepare very little. Everything was internalised so well. That was the silent art of Prof Jog. He created an enormous [collection] of example problems for us, solving which, all the possible confusions in tensor analysis got eliminated.
 The award ceremony was followed by a panel discussion that also included Koushik Vishwanathan, winner of last year's Prof Priti Shankar Award for teaching. The teachers talked about their motivation for teaching and how it goes hand-in-hand with research; shared their experiences teaching students at different academic levels – from undergraduate to PhD; and recounted the challenges they faced as the online teaching format became a norm during the pandemic. There was also an animated discussion about the role and relevance of a teacher in the age of the Internet. The discussion concluded with questions from the audience.
[metaslider id="40788″]