15th February 2023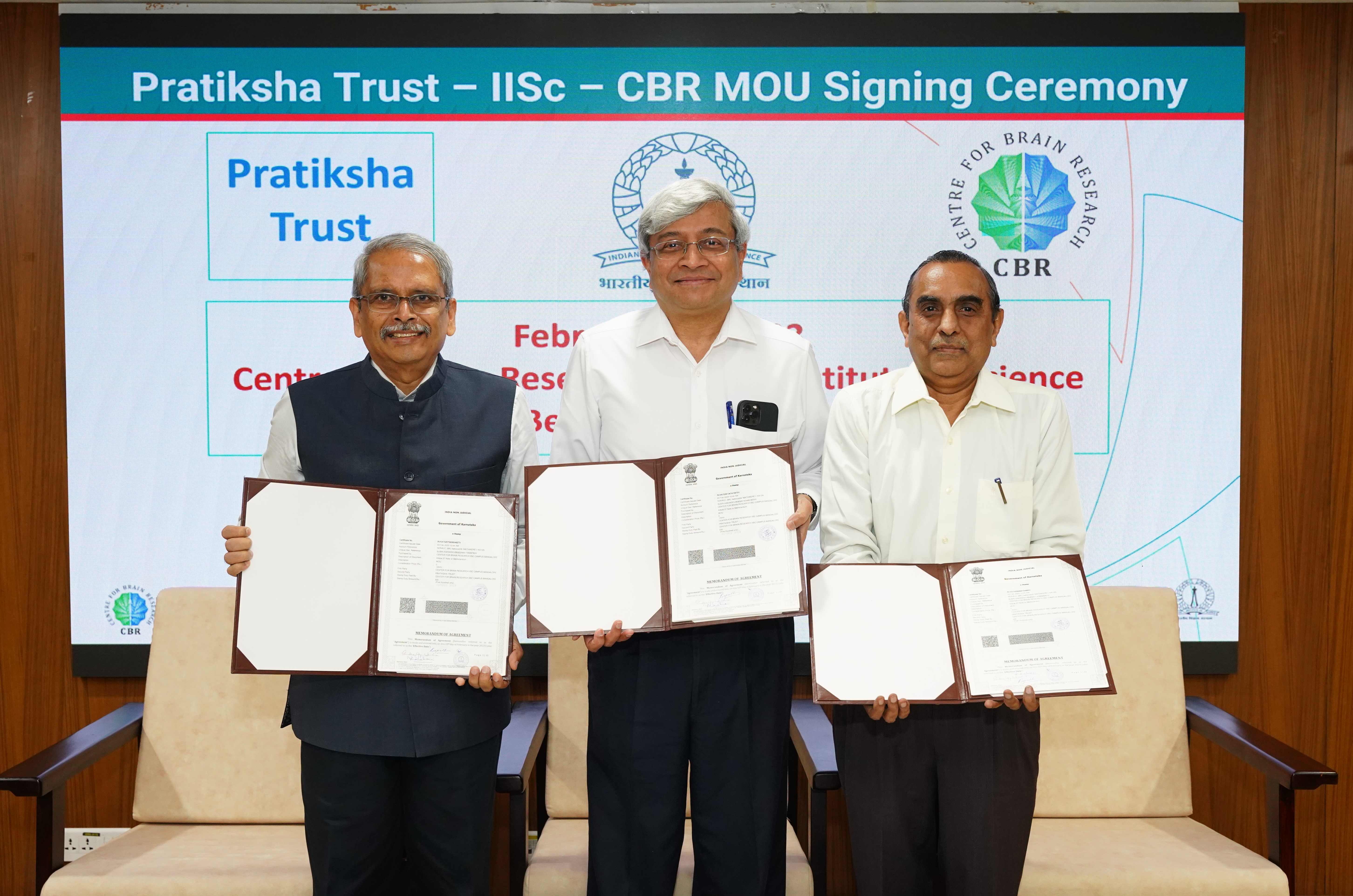 In a landmark development in philanthropic support for deep science in India, the Pratiksha Trust signed an MoU on 15 February 2023 with the Indian Institute of Science (IISc) and the Centre for Brain Research (CBR) – an autonomous Centre of IISc located on the Institute campus – to support fundamental and translational research on neurodegenerative diseases of the elderly population.
Under this MoU, the Pratiksha Trust has generously agreed to provide support to CBR in perpetuity, with an initial outlay to the tune of Rs 450.27 crore (approximately USD 55 million) over the next 10 years, for research, innovation and translation.
Earlier in 2014, the Pratiksha Trust, established by philanthropists Mr Kris Gopalakrishnan and Mrs Sudha Gopalakrishnan, had helped set up this unique centre in the IISc campus. The Trust has been supporting the R&D activities and has helped create world-class infrastructure in CBR since its establishment in 2014. In addition, the Trust entirely funded the construction of a state-of-the-art building for CBR. The current MoU is an extension of this support for securing the future of CBR and strengthening its long-term studies on the aging brain. In a parallel initiative, the Pratiksha Trust will be supporting several ambitious, high-risk-high-reward interdisciplinary extramural projects in aging brain research.
Since 2014, CBR has dedicated itself to the deep intellectual pursuit of reducing the burden of neurodegenerative disorders (such as Alzheimer's, Parkinson's and Vascular Dementia) among a key population – the elderly and their families. A strong foundation was laid under the visionary leadership of founder Director Prof Vijayalakshmi Ravindranath, during her tenure until the end of May 2022. CBR is now a lively hub of talented and dedicated molecular and cellular biologists, neuroscientists, clinician-researchers, computational geneticists, data scientists, and bright PhD students who are engaged in interdisciplinary translational research. The Centre currently has 10 Principal Investigators supported by more than 20 Research Scientists, Post-Doctoral Fellows, and Medical Officers, and 22 PhD students.
The Centre has initiated and completed four years of two unique longitudinal studies to track the aging brain over a 15 to 20-year period in individuals older than 45 years of age – one for a rural cohort (in Srinivasapura Taluk of Kolar District, Karnataka) with 10,000 volunteers, and the other for an urban cohort (in and around Bengaluru) with 1,000 volunteers. In the rural cohort, more than 5,400 volunteers have already been recruited and more than 6,600 multi-modal assessments have been completed (baseline as well as yearly follow-ups). The corresponding figures for the urban cohort (a project supported by the Tata Trusts) are more than 1,100 recruitments and more than 2,300 assessments. These cohort studies are providing a wealth of data, and preliminary analyses of the data collected so far are revealing important insights with implications for understanding the risk factors and protective factors for neurodegeneration. CBR is also leading a large-scale, nation-wide initiative involving 20 institutions called "Genome-India" (supported by the Department of Biotechnology, Government of India), which aims to discover India-specific genetic basis for diseases through whole genome sequencing of 10,000 samples collected from across the length and breadth of India. CBR has caught the attention of the global community of researchers through more than 30 publications in high-impact journals including Nature Reviews Neurology, Journal of Neuroscience, and Alzheimer's & Dementia. The Centre has started attracting notable funding from external agencies.
The substantial extension of support by the Pratiksha Trust through the current MoU will help scale up the research and innovation activities at the Centre significantly. It will help identify new early biomarkers and molecular targets for novel drugs. The funding will help initiate and investigate the efficacy of evidence-based interventions (lifestyle-based as well as therapeutic). The funding will also enable the Centre to proactively explore and achieve complete bench-to-bedside translation of the outcomes from the interdisciplinary research.
"The human brain is one of the world's biggest mysteries, which is yet to be fully understood. By funding this Centre, with the help of IISc, we are working towards creating and sustaining a globally recognised, state-of-the-art research and innovation hub that will be at the cutting edge of research on the human brain," said Mr Kris Gopalakrishnan. "We are committed to supporting this Centre in its mission to reduce the pain, agony, and burden of an important part of our society: the elderly population. We wish the Centre all success and hope that it becomes the world's leading centre for aging brain research by 2030."
Prof G Rangarajan, Director, IISc, said, "India's elderly population is expected to grow rapidly to a staggering 32 crore by 2050, leading to a corresponding increase in the burden of dementia and other aging-related neurodegenerative diseases. CBR is uniquely positioned to take on the challenge of tackling this impending healthcare and socioeconomic crisis. I thank Mr Kris Gopalakrishnan and Mrs Sudha Gopalakrishnan for their continued commitment to such crucial research and the unprecedented level of support that they have given."
Prof Y Narahari (Computer Science and Automation, IISc), the current Director of CBR, said, "CBR is privileged to have had the sustained support of Mr Kris Gopalakrishnan and Mrs Sudha Gopalakrishnan. Their generous contributions will help us pursue transformational research in mission mode, which will help reduce the burden of neurodegenerative diseases as well as improve the quality of life for the elderly. We are grateful for the exemplary vision and munificence of the donors. With determination and fortitude, CBR will make a single-minded effort to tackle the scientifically-challenging problems ahead and dedicate itself to the service of the nation."
About the Pratiksha Trust 
The Pratiksha Trust is a charitable trust founded by Mr Kris Gopalakrishnan (Co-Founder, Infosys Technologies and Chairperson, Axilor Ventures) and Mrs Sudha Gopalakrishnan. The Trust has provided philanthropic support to many high-impact scientific initiatives for social good including the Centre for Brain Research. The Trust has supported frontline research and innovation in several top-ranking institutions such as Carnegie Mellon University, Nanyang Technological University (Singapore), Indian Institute of Technology-Madras, and the Indian Institute of Science, Bangalore. The Pratiksha Trust has also recently launched a unique, extra-mural funding initiative called EMSTAR (Extra Mural Support for Transformational Aging Brain Research) to fund high-risk, high-reward inter-disciplinary projects in aging brain research and innovation.
About the Indian Institute of Science (IISc) 
The Indian Institute of Science (IISc) was established in 1909 by a visionary partnership between the industrialist Jamsetji Nusserwanji Tata, the Mysore royal family and the Government of India. Over the last 113 years, IISc has become India's premier institute for advanced scientific and technological research and education. Its mandate is "to provide for advanced instruction and to conduct original investigations in all branches of knowledge as are likely to promote the material and industrial welfare of India." In 2018, IISc was selected as an Institution of Eminence (IoE) by the Government of India, and it consistently figures among the top Indian institutions in world university rankings.
About the Centre for Brain Research, IISc Campus 
The Centre for Brain Research (CBR) is an autonomous centre of the Indian Institute of Science (IISc), set up to foster interdisciplinary research in basic and clinical neuroscience, to understand brain aging and aging-related brain disorders through advanced genetic, biochemical, neuroimaging, and neurocognitive investigations. The Centre aims to understand how cognitive functions can be preserved during aging and how the burden of neurodegenerative disorders can be reduced through early diagnosis, prevention, postponement, and innovative interventions. It brings together neuroscientists, neuro-physicians (psychiatrists and neurologists), engineers, and computational scientists to conduct mission-oriented translational research and innovation. The foundation stone for CBR was laid by India's Prime Minister Shri Narendra Modi on February 18, 2015. The state-of-the-art building housing the CBR activities was inaugurated by Shri Narendra Modi on June 20, 2022. 
 Contact 
Centre for Brain Research | office.cbr@iisc.ac.in  
IISc Office of Communications | news@iisc.ac.in