Location: Faculty Hall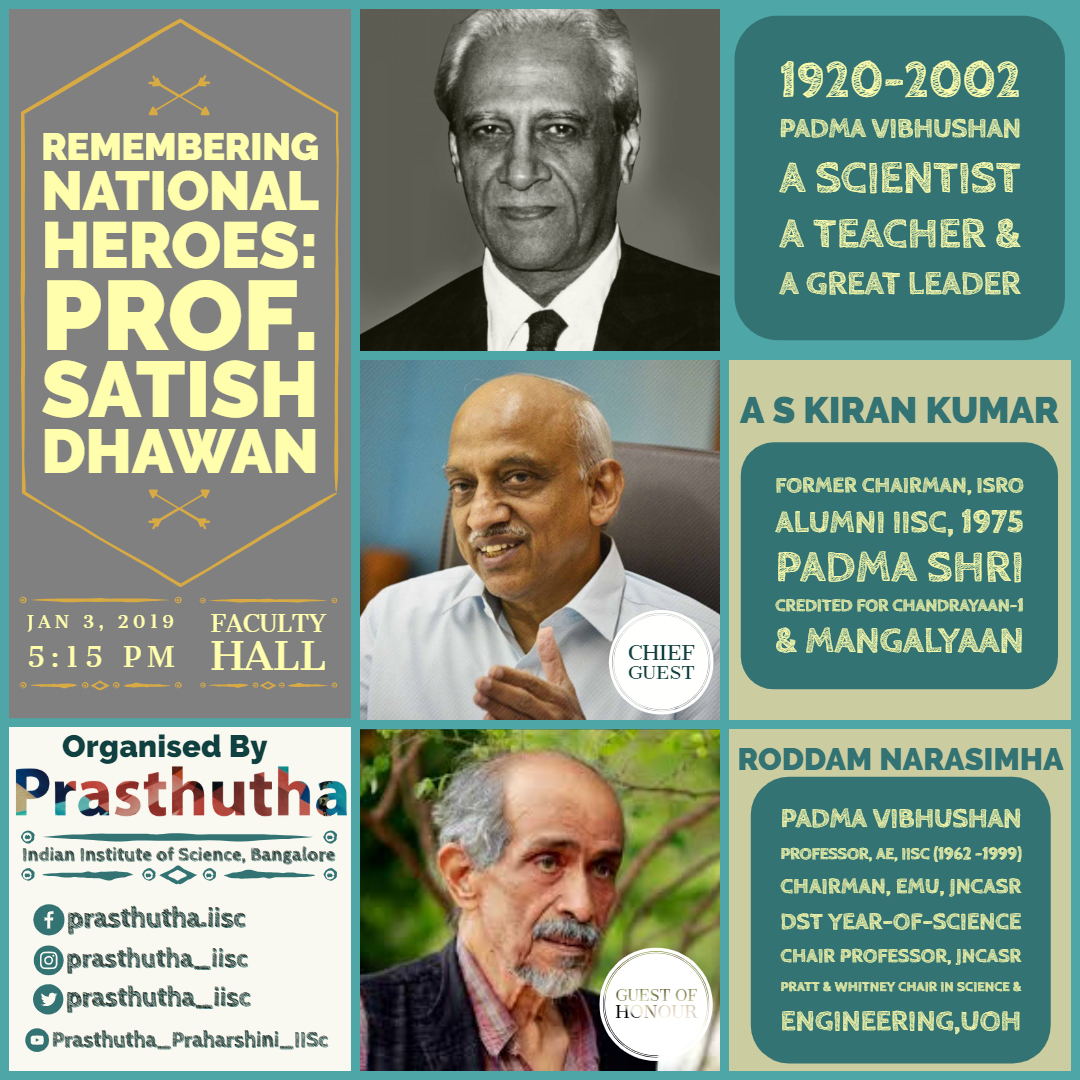 Dear All,
————————————————-
Prasthutha
Relevant Thoughts for Responsible People
————————————————-
Invites you to pay tributes to Prof. Satish Dhawan, one of the pioneers of Indian Space Research and former Director, IISc (1962-1981).
"Remembering Prof. Satish Dhawan"
Guests of Honor :
Prof. Roddam Narasimha, Padma Vibhushan, DST Year-of-Science Professor, JNCASR
Prof.Jyotsna Dhawan, Principal Scientist, CSIR-Centre for Cellular and Molecular Biology
Chief Guest :
A.S. Kiran Kumar,  Padma Shri, Member, Space Commission, Former Chairman, ISRO
Prof. Roddam Narsimha, A.S. Kiran Kumar and Dr. Jyotsana Dhawan will share their thoughts on this occassion. Prof. Anurag Kumar, Director, IISc, will preside
over the session.
Venue: Faculty Hall
Date: January 3rd, 2019 (Thursday)
Time: 5.15 PM
High Tea: 6.45 PM onwards
About the Guests:
Prof. Roddam Narsimha is a renowned Indian aerospace scientist and fluid dynamicist. He was formerly a Professor of Aerospace Engineering at the Indian Institute of Science, Director of National Aerospace Laboratories (NAL) and the Chairman of Engineering Mechanics Unit at JNCASR, Bangalore. He is presently an Honorary Professor at JNCASR and concurrently holds the Pratt & Whitney Chair in Science and Engineering at the University of Hyderabad. He has been awarded the Padma Vibhushan, India's second highest civilian award, in 2013.
Mr Kiran Kumar is a highly accomplished space scientist and engineer with a distinguished career spanning over four decades in the satellite payload and applications domains. He was the Chairman of ISRO from 2015-2018 and is currently serving as the member of Space Commission. He is an alumnus of National College, the esteemed educational institution of Bangalore. He has received his M.Tech Degree in Physical Engineering from the Indian Institute of Science, Bangalore in 1975. He has played a crucial role in Chandrayaan-1 mission right from the conceptualization stage and has made exemplary contributions to the success of Mars Orbiter Mission. In recognition of his contributions, he was conferred Padma Shri award by the President of India in 2014.
Prof. Jyotsna Dhawan, daughter of Prof. Satish Dhawan obtained her Ph.D. in cell biology and biochemistry from Boston University in 1991 and pursued postdoctoral work on adult stem cells and gene therapy at Stanford University. She joined the Centre for Cellular and Molecular Biology (CCMB) in Hyderabad, studying the biology of muscle stem cells and muscle repair. From 2009-2014, she helped to establish the Institute for Stem Cell Biology and Regenerative Medicine (InStem) in Bangalore. Currently, She is Chief Scientist at CCMB and Professor, Academy of Scientific and Innovative Research, retaining links with InStem as an adjunct professor and a member of the advisory board. She also serves as the Scientist In Charge of CCMB's iHub, a next-generation innovation space with an incubation center for startups, skilling and training programs and genetic diagnostics services, in addition to translational research programs.
ALL ARE WELCOME!