Location: Indian Institute of Science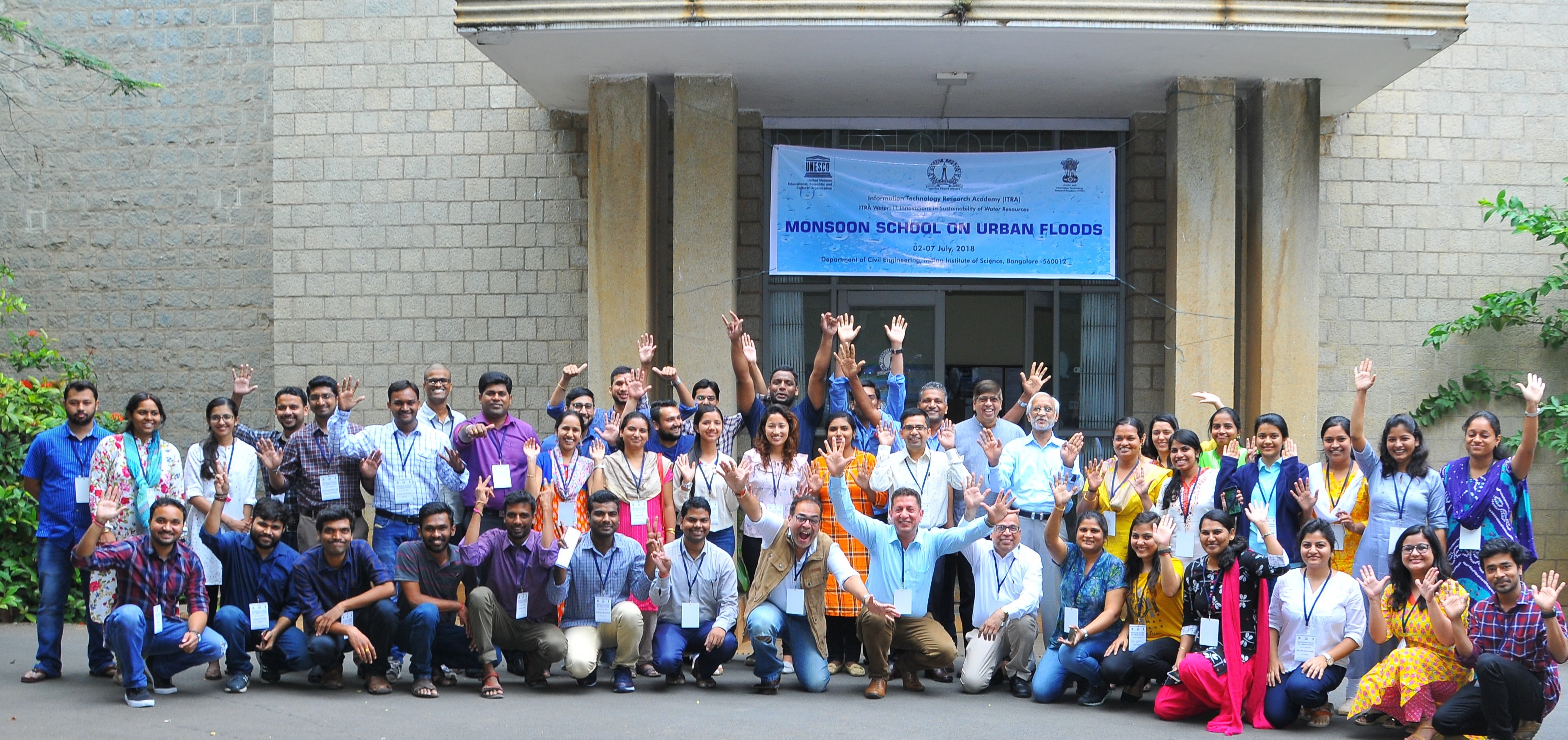 Monsoon School on Urban Floods organized by the Indian Institute of Science (IISc), Bangalore and UNESCO. Group photo from concluding session in 2018. © IISc
"Monsoon School on Urban Floods" is a one-week training workshop to advance the usage of New and Smart Technologies such as AI and machine learning to better manage hydro-meteorological disasters in Asian cities. The Interdisciplinary Centre for Water Research (ICWaR) of the Indian Institute of Science (IISc), Bangalore and the Knowledge Societies Division, UNESCO is jointly organizing the workshop, which will take place from 5-10 August 2019.
The workshop is designed to strengthen capacities of engineers, academicians and researchers working with government or private bodies and educational institutes to address the challenge of flooding in Asian cities.
The School comprises of lectures and tutorials by experts, covering topics of urban meteorology, urban hydrology, radar and remote sensing analysis of rain events, Artificial Intelligence, big data analytics for urban processes, engineering practices and post-flood responses. Group discussions based on real cases are organized to bring out the relevance of the state-of-the-art tools and methodologies for managing urban floods in cities.
Organized annually, over the last six-year, research students, representatives from governments and NGOs from various parts of India and neighbouring countries of Sri Lanka, Nepal and Bhutan have benefitted from the School. The school is supported by the Department of Science and Technology, Government of India and is conducted by water sciences experts from Purdue University USA, Indian Institute of Science, Indian Institute of Technology and UNESCO.
Coordinators: P. P. Mujumdar, Chairman, ICWaR (pradeep@iisc.ac.in)
Bhanu Neupane, Programme Specialist, UNESCO (b.neupane@unesco.org)
Monsoon School 2019