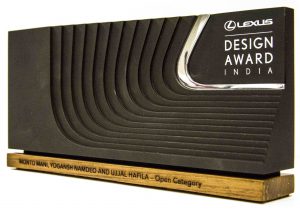 The Lexus Design Award India (LDAI) seeks to foster the growth of ideas that contribute to society by supporting designers, creators, and students whose works can help to shape a better future. The award aims to recognize and reward members of the Indian design community who anticipate future challenges, innovate to tackle those challenges and in doing so, captivate the hearts and minds of Indian consumers.
The IISc team of Prof Monto Mani, Yogansh Namdeo and Ujjal Halifa, from the Sustainability and Design Lab (SuDesi) at the Centre for Product Design & Manufacturing (CPDM) and the Centre for Sustainable Technologies (CST), was selected amongst 12 finalists from nearly 220 entries in the open category. The award is in recognition of their role as designers of CleaneRat, an Internet of Things (IoT) based sewer inspection and  declogging system that aims to provide empowerment and dignity to people involved in the maintenance of sewer lines.
Their design is to be displayed at the Milan Design Week 2019.