On March 31, 2022, a delegation led by Prof Paul Monks, Chief Scientific Advisor, Department for Business, Energy and Industrial Strategy (BEIS), Government of UK, visited IISc to discuss ongoing Indo-UK collaborations as part of the Innovating for Clean Air (IfCA) programme.
Also present at the meeting were senior executives from Global Research and Innovation, Science and Innovation Network India, Newton Fund India, Foreign, Commonwealth & Development Office, UK; Directorate of Urban Land Transport, Bengaluru; Urban Morph, Green EnCo and Catapult.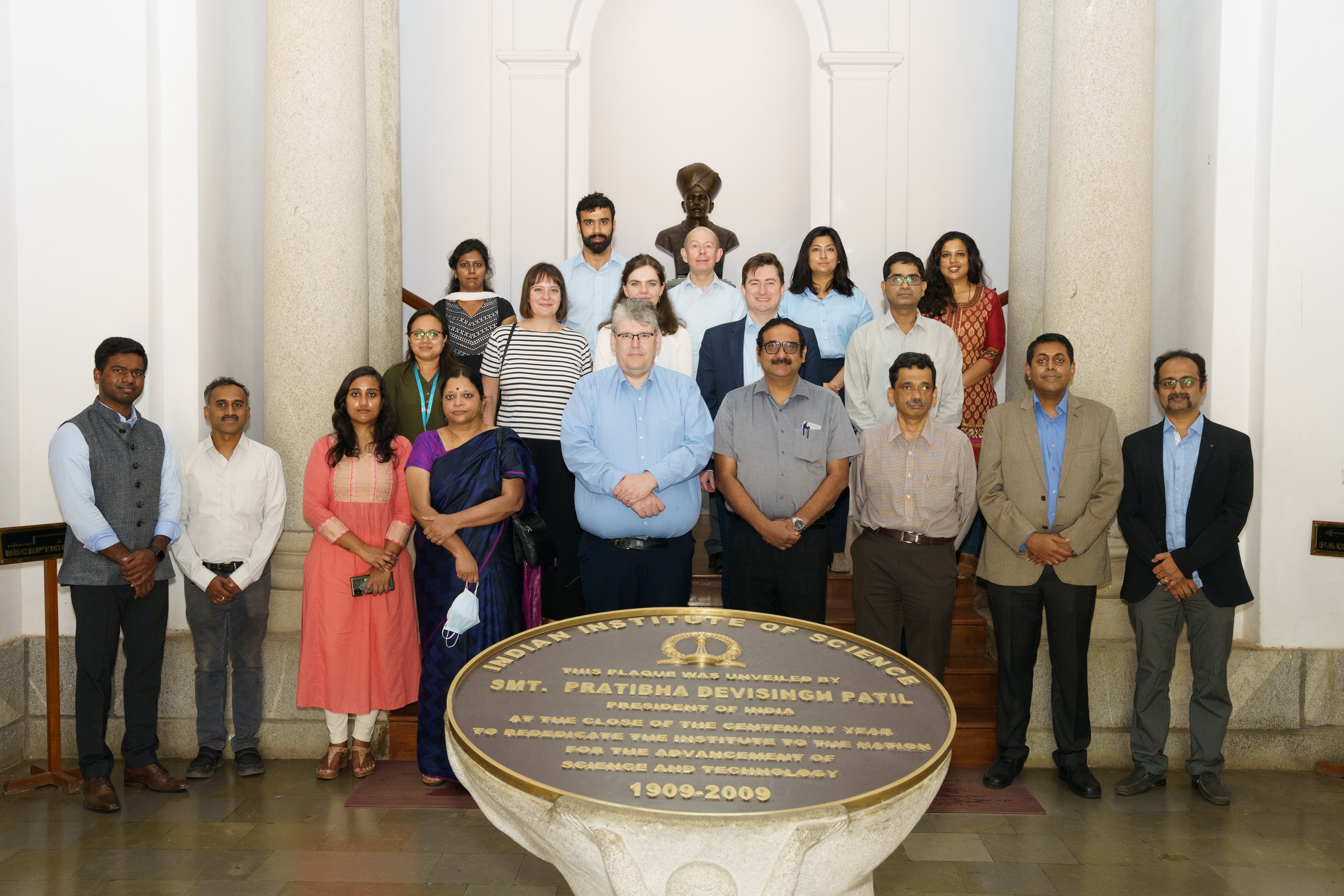 India is facing the reality of encouraging economic growth and social development while moving towards a green economy. This requires many ambitious plans and targets to achieve emissions reductions, sustainable mobility, and urban resilience. These challenges provide UK and Indian organisations opportunities for equitable partnerships and engagements. To achieve this,collaborations and commitments from thenational and local government, industry and academia are required.
The Innovating for Clean Air (IfCA) programme is a joint initiative between India and UK to pilot air quality improvement initiatives in Bengaluru. Launched in May 2019, it is a two-year initiative, managed by the three UK Catapult organisations – Energy Systems, Connected Places and Satellite Applications.The goal of the programme is to work with innovative businesses, local authorities, academics, and civil society organisations to develop interventions which have the potential to improve air quality. The Catapults are supported by local partners, which work with innovators and civil society.So far,several projects are supported under the IfCA programme, such as theClean Air Street-Church Streetfirst, GreenEnco – Solar carport & EV charging at IISc, EVcharging infrastructure tooldevelopment, and the energy modeling and E-carbo bikes project.
Under the Clean Air Street initiative, Church Street in Bengaluru was closed for vehicular traffic every Saturday and Sunday from 10 am to midnight for four months from 7th November 2020 till 28th February 2021.The Directorate of Urban Land Transport (DULT) was a primary partner along with ProfAshishVerma'sSustainable Transportation Lab (IST Lab) at the Indian Institute of Science (IISc), and Catapult UK in implementing this. Several Electric Vehicle (EV) innovators and air quality monitoring teams were also involved. The aim of the initiative was to assess the impact of pedestrianising urban streets in terms of quality of life (QoL), both quantitatively and qualitatively.
Results have shown that even without making any changes in the street infrastructure, the perception after pedestrianisation is very favourable compared to before. And pedestrianising an urban street positively impacts QoL by enhancing physical, mental, social, and economic well-being. The initiative received positive responses from the public and various organisations, as well as appreciation and awards from the Ministry of Housing and Urban Affairs (MoHUA), Government of India andVolvo India.
Another project on EV charging infrastructure aims at developing a tool that helps various stakeholders like BESCOM in Bengaluru, India to better plan for the infrastructural requirements of electric vehicles. The main partners in this project are IISc's Sustainable Transportation Lab (IST Lab), Catapult UK and Urban Morph. IST Lab is mentoring the team towards tool development; funding support and guidance is provided by Catapult UK, and Urban Morph is engaged in the GUI development.
The main objective of the tool is to maximise the coverage of electric vehicle charging stations and minimise the total missed kilometres for all the Battery Electric Vehicle (BEV) drivers. The tool encompasses the practical constraints such as the type of charging station that could be installed at a location, minimum charging station accessibility, and the vehicle charge at the start and end of a trip. Under this project, 5000 household surveys are in progress which will help in developing OD matrix and getting potential charging locations. Further, behavioural surveys with 1000 potential electric 2-W and 1000 potential electric 4-W buyers are in advancement to analyse the user's preference for charging station location, optimum charging time and cost.
Under the GreenEnco – Solar carport & EV charging project at IISc, an off-grid version of a zero-emission EV charging station powered by solar PV and battery storage has been deployed. The solution is developed by GreenEnco, a renewable energy advisory firm. A collaboration has been established between the IISc Sustainable Transportation Lab and GreenEnco to conduct an impact assessment of this pilot project.This pilot project created a platform for further study on the subjects related to technical data analysis of solar PV performance and EV charging mechanism, commercial charging fees mechanism, customer behaviour and policy framework of e-mobility and its challenges & opportunities. This will ultimately help developing regional and national e-mobility infrastructure in India.