Dear All,
Greetings from ODAA!
The Office of Development and Alumni Affairs, IISc and HCL Foundation, the CSR arm of HCL Technologies, is delighted to invite you to the  "Young Kalam Science Fest 2019-20- South Regional Finals" which will be held at the Main Building (Faculty Hall – Reception Hall), Indian Institute of Science (IISc) – Bangalore, on November 18, 10 am to 3 Pm.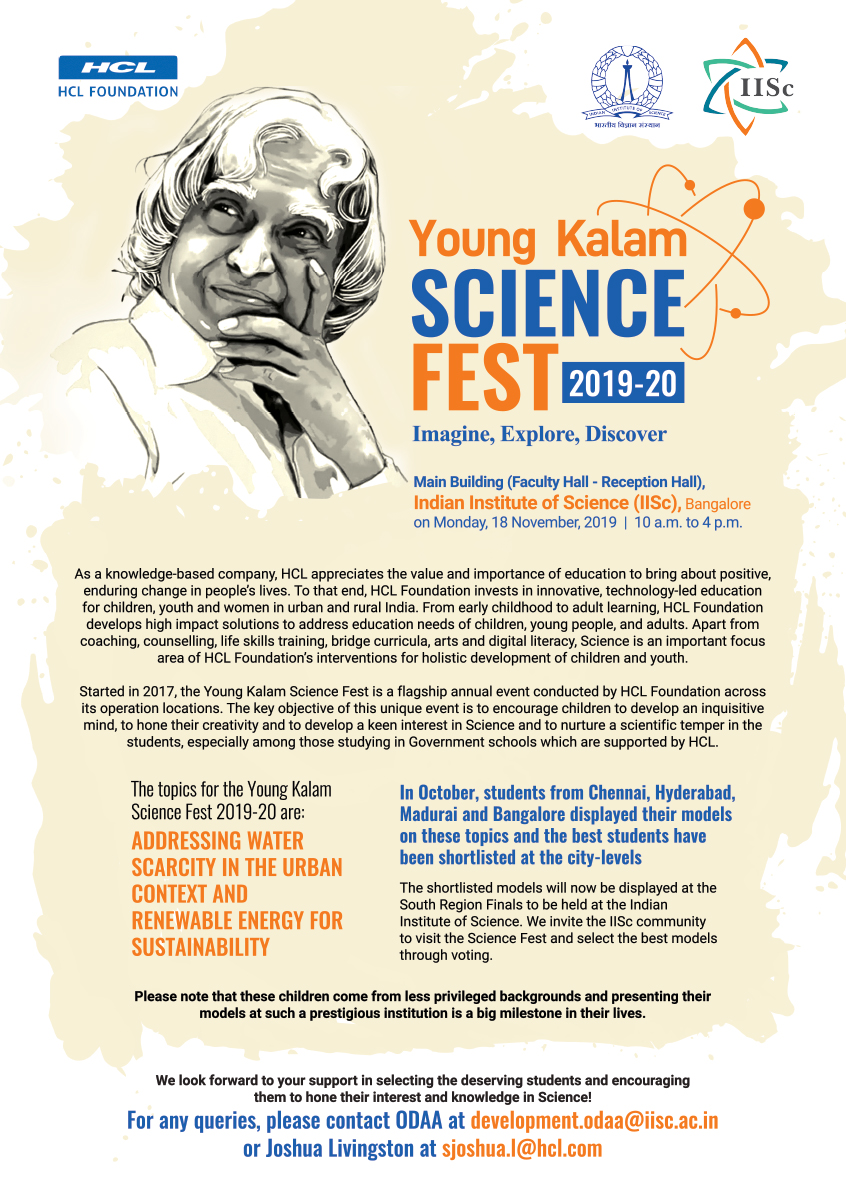 As a knowledge-based company, HCL appreciates the value and importance of education to bring about positive, enduring change in people's lives. To that end, HCL Foundation invests in innovative, technology-led education for children, youth and women in urban and rural India. From early childhood to adult learning, HCL Foundation develops high impact solutions to address education needs of children, young people, and adults. Apart from coaching, counselling, life skills training, bridge curricula, arts and digital literacy, Science is an important focus area of HCL Foundation's interventions for holistic development of children and youth.
Started in 2017, the Young Kalam Science Fest is a flagship annual event conducted by HCL Foundation across its operation locations. The key objective of this unique event is to encourage children to develop an inquisitive mind, to hone their creativity and to develop a keen interest in Science and to nurture a scientific temper in the students, especially among those studying in Government schools which are supported by HCL.
The topics for the Young Kalam Science Fest 2019-20 are: Addressing Water Scarcity in the Urban Context and Renewable Energy for Sustainability.
In October, students from Chennai, Hyderabad, Madurai and Bangalore displayed their models on these topics and the best students have been shortlisted at the city-levels.
The shortlisted models will now be displayed at the South Region Finals to be held at the Indian Institute of Science. We invite the IISc community to visit the Science Fest and select the best models through voting.
Please note that these children come from less privileged backgrounds and presenting their models at such a prestigious institution is a big milestone in their lives.
We look forward to your support in selecting the deserving students and encouraging them to hone their interest and knowledge in Science!