IISc reaches out to remote village school for solar power supply
As part of a UK-India project to address global energy poverty through next-generation solar technologies, researchers from IISc have recently installed a 1.3 kW solar power unit at Acharya School, Manchenahalli, Karnataka, to address the problem of intermittent power supply.
Prof. Satish Patil (SSCU) has led this project along with Prof. Ashok Shukla, under the Strategic University Network to Revolutionize Indian Solar Energy (SUNRISE), which is funded by the Global Challenges Research Fund (GCRF) established to support research that addresses challenges faced by developing countries. One of the focus areas of GCRF is to deploy solar power units in remote villages where people who do not get access to power from the electricity grid live.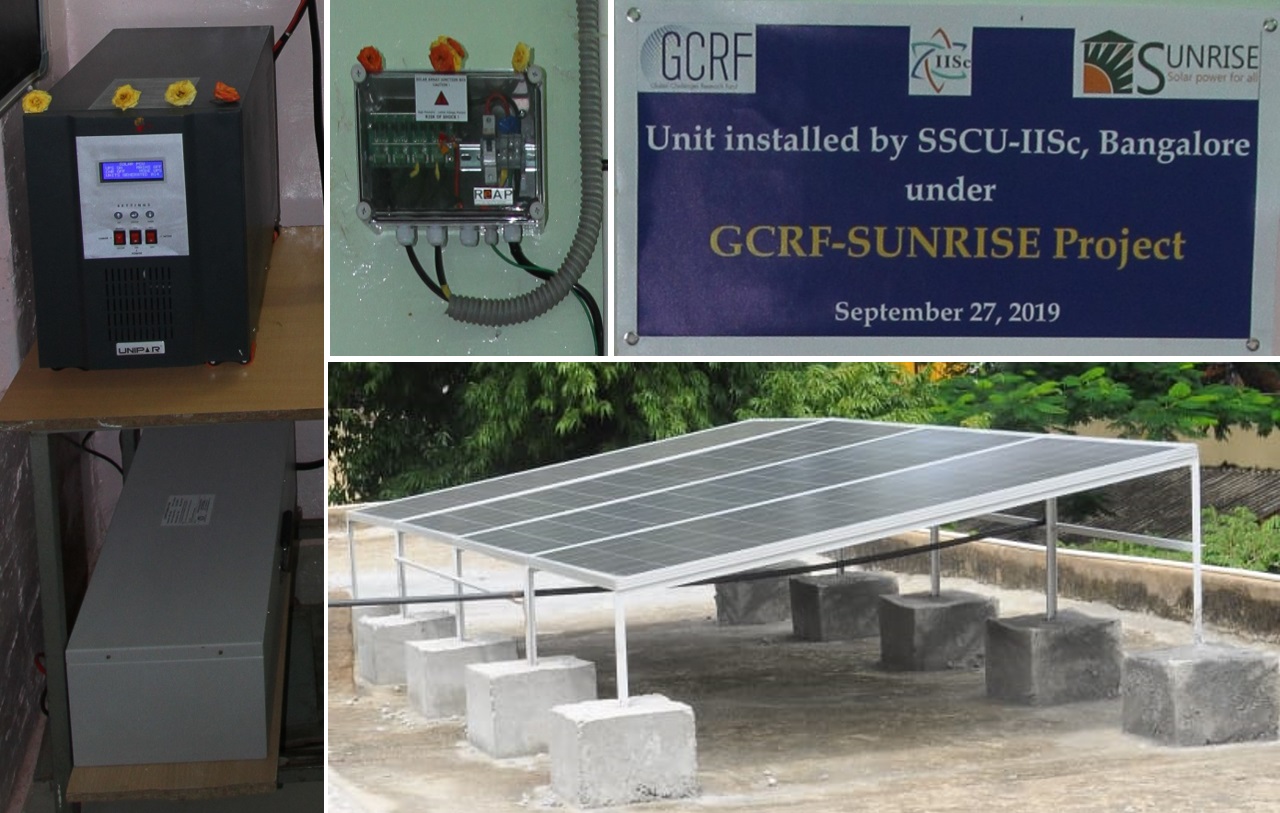 Patil and Shukla's research focuses on lowering the cost of solar cells, and storing the electrical energy thus generated in batteries/supercapacitors, which could be retrieved on demand. Their vision is to transfer the knowledge generated in the lab to store and provide electricity in grid-deprived and remotely-located educational institutions. Their focus is on novel technologies to integrate emerging photovoltaic cells with advanced batteries that can store power.
The distribution of power at the Acharya School in Manchenahalli — about 70 km from Bengaluru — is very sporadic. Working with the school authorities, the IISc team has installed the 1.3 kW solar unit to store and supply power for the school's needs. The initial objective of this project is to provide uninterrupted power supply and adequate lighting in the classrooms. The team is working with the school authorities to monitor the operation of the unit and collect data that will give useful insights on providing electricity in grid-deprived areas.
As part of the 4-year project, the team also plans to install such units in 50 villages in Karnataka, specifically to support schools and hospitals that have ICU units which critically depend on uninterrupted power supply.
More details at:
http://www.sunrisenetwork.org/
Lab website: http://oesscu.in/