Major benefactors
The Indian Institute of Science (IISc) continues to benefit from generous endowments made by its benefactors
 PRATIKSHA TRUST
Pratiksha Trust donated Rs. 225 crores to setup a new Centre for Brain Research at IISc.
The Trust was set-up by Kris Gopalakrishnan, the co-founder of Infosys, along with his wife, Sudha Gopalakrishnan, and their daughter.
The Trust has also established three new chairs at the Institute for research in the areas of computational neuroscience, machine learning, data science and neuromorphic engineering.
The first of these three Chairs ─ the K Vaidyanathan Distinguished Chair ─ will be occupied by Shihab Shamma, Professor, Institute of Systems Research at the University of Maryland. The Chair is named after Sudha Gopalakrishnan's father.
"The Centre for Brain Reseach will focus on ageing and age-related disorders like Parkinson's, dementia and Alzheimer's"
— Kris Gopalakrishnan
---
ROBERT BOSCH FOUNDATION
The Robert Bosch Foundation is providing Rs. 11 crores every year for 10 years to the Robert Bosch Centre for Cyber Physical Systems, established in 2011.
Scientists at this interdisciplinary Centre focus on using advances in sensing, communication and data analytics technologies to address key challenges in water, healthcare and energy sectors.
---
TATA TRUSTS
The Tata Trusts provided a grant of Rs 75 crores to the Centre for Neuroscience, spread over five years, to study the mechanisms underlying the Alzheimer's disease and to evolve methods for early diagnosis and effective treatment for this neurological disorder.
This research will be championed by the faculty members at the Centre for Neuroscience led by its Chairperson, Vijayalakshmi Ravindranath.
---
Hindustan Aeronautics Limited (HAL)
Hindustan Aeronautics Limited is supporting the establishment of a Skill Development Centre at IISc's second campus in Challakere, Chitradurga. The Bhoomi Pooja for the construction of the new "HAL-IISc Skill Development Centre" was held on 27th October in the presence of Prof. Anurag Kumar, Director of IISc, and Mr. T. Suvarna Raju, CMD of HAL.
The concept of a Skill Development Centre has been in the pipeline for nearly eight years at IISc. HAL came forward to support the infrastructure for this new Centre under their Corporate Social Responsibility (CSR) initiatives. The goal is to create a model facility that would provide skill development programmes for various beneficiaries — from unemployed youth and local community members to advanced engineering professionals.
*"This will go a long way in recognizing and honing skills and providing opportunities for youth at various levels in line with the Government's Skill India initiative."*
– Suvarna Raju
---
ARJUN DIVECHA & GRANTHAM FOUNDATION
Arjun and Diana Divecha, along with the Grantham Foundation for the Protection of the Environment, founded by Jeremy Grantham, had jointly donated USD 3 million to establish the Divecha Centre for Climate Change in 2009.
This year they have extended their funding for another five years. Researchers at the Centre study climate science and critical issues related to climate change. Arjun Divecha is the Chairman and Investment Director at Grantham, Mayo, Van Otterloo & Co.
"I think the Centre (Divecha Centre for Climate Change) has evolved quite nicely"
— Arjun Divecha
---
INFOSYS FOUNDATION
The Infosys Foundation granted a corpus of Rs 20 crores to endow Visiting Chair Professorships in Mathematics and Physics.
The grant is aimed at bringing distinguished scientists in these broad areas to IISc in order to catalyze cutting-edge research and initiate long-term collaborations.
Chairperson of the Foundation and IISc alumna Sudha Murthy personally handed over the grant statement to the respective departments at IISc.
The Foundation has also provided an additional grant of Rs. 1.20 crores to initiate the process of appointing the Chair Professors.
"If we want to enrich our students, we need to expose them to the best in the world"
---
JINDAL ALUMINIUM GROUP
In order to encourage more women students to pursue science and engineering, Jindal Aluminium Group has made a generous contribution to support the construction of a new women's hostel block in IISc.
The new block, estimated to cost Rs. 20 crores, will be named after Dr. Sitaram Jindal, Founder, Jindal Aluminium Limited, upon completion.
For more information click here
---
AVRA LABORATORIES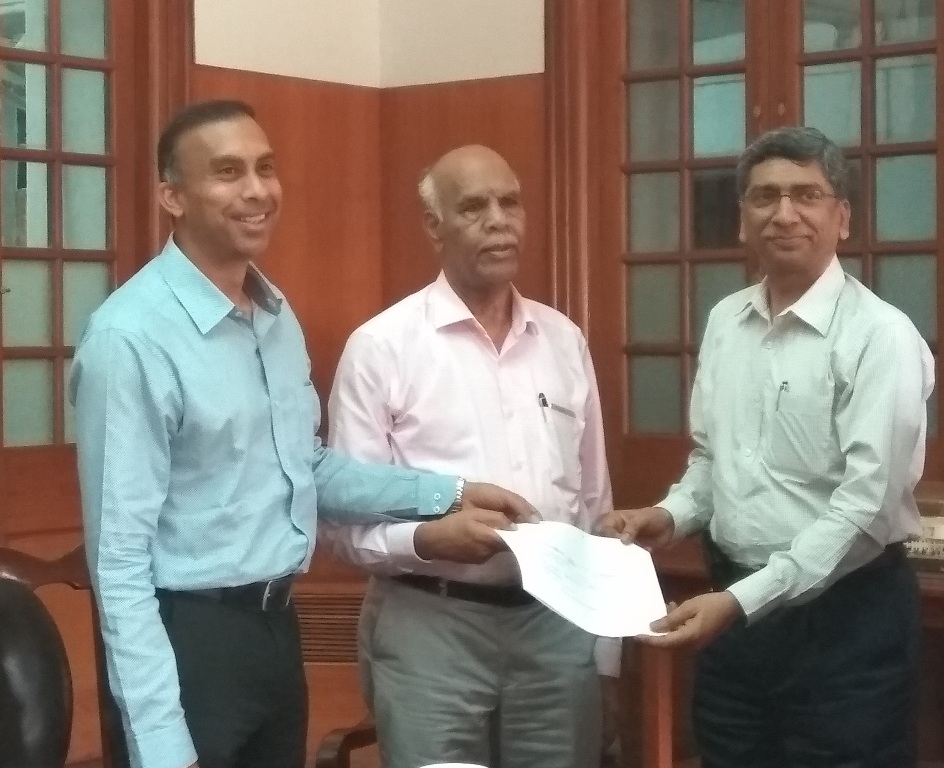 Avra Laboratories, Hyderabad, has made a philanthropic contribution of Rs. 5 crores to the Indian Institute of Science (IISc), to support a state-of-the-art auditorium located in the upcoming 260,000 sq. ft. modern building for the Division of Chemical Sciences. The generous gesture was made by Dr. A. V. Rama Rao, founder and CMD, and Dr. Chandra Rama Rao, Chief Operating Officer, Avra Laboratories. In recognition of their gift, the auditorium will be named as "A. V. Rama Rao Auditorium".
"Every success in any field is due to efforts based on scientific maneuvering and management. For any country, institution or corporation the quest towards dominance comes from the capitalization of science. The only way India can tackle its multitude of challenges is when its people think and act with a scientific temperament and promote the understanding and dissemination of science," says Dr. A. V. Rama Rao. "The Indian Institute of Science is both a citadel and beacon for mavens who proliferate science and I am honored to have the opportunity to contribute to its evolution."
---
Rural Electrification Corporation Limited
Rural Electrification Corporation Limited (REC), a Govt. of India Navratna Enterprise, has extended financial assistance under its CSR initiative to establish 279 KWp photovoltaic solar panels on 3 building rooftops and 2200 LED lights at various locations on the IISc Bangalore campus. The objective of this project is to reduce the campus carbon footprint and dependence on non-renewable energy sources. The Memorandum of Agreement (MoA) promoting this partnership was signed on 31st October 2016 by Shri P. S. Hariharan, Zonal Manager, Southern Zone, REC, and Shri V. Rajarajan, Registrar of IISc, in the presence of Prof. Anurag Kumar, Director of IISc, and other senior officials of REC and IISc.
---
IISc alumnus, Dr. Desiraju Rajagopal Rao and Dr. Vijaya Rao
IISc alumnus, Dr. Desiraju Rajagopal Rao, along with Dr. Vijaya Rao, who live in Mysore, have made a generous contribution to create "Dr. Vijaya and Dr. Rajagopal Rao Biomedical Research Laboratory" in the Centre for BioSystems Science and Engineering (BSSE) , IISc. Their contribution will support research in this area in perpetuity. Dr. Rajagopal Rao had enrolled in the Associateship Programme in Biochemistry in the mid 1950s. Dr. Rajagopal Rao conducted basic research in food biochemistry at the Central Food Technology Research Institute, Mysore, and retired as its acting Director. Dr. Vijaya Rao served with distinction as a microbiologist at the Defence Food Research Laboratory, also located in Mysore. This distinguished scientist couple is passionate about science, and biomedical research in particular. Their munificence is sincerely appreciated by IISc.
---
Dr. Kiran Mazumdar-Shaw
Dr. Kiran Mazumdar-Shaw, Chairperson and Managing Director, Biocon Limited, has made a generous contribution to IISc to establish the "R. I. Mazumdar Young Investigator" position. This endowment fund will be used to support cutting-edge research in Bioengineering and related areas by bright young faculty members currently at or recruited in the future by IISc.
"Through this fund, I hope to encourage young scientists to focus on cutting-edge science for innovation in the area of bioengineering and material sciences that can address unmet medical needs. I believe private funding can play a critical role in strengthening the innovation ecosystem in our country." – Kiran Mazumdar-Shaw
---
Mr. Sameer Bhat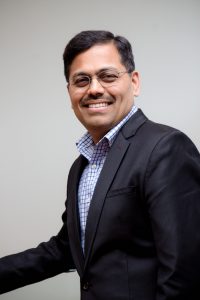 Mr. Sameer Bhat, Co-founder eClinicalWorks, Boston, USA, has made a generous contribution to IISc to establish the Gore Subraya Bhat Associate Professorship Chair. This chair is established in memory of his grandfather Gore Subraya Bhat.
The Chair will be awarded to a selected Associate Professor, with stellar research performance in the general area of Digital Health, including but not limited to topics such as (i) Diagnostics and Therapeutics (ii) Organs and Body on Chip (iii) Medical Devices (iv) Human System Modelling (v) Omics for Healthcare (vi) AI/ML for Clinical Decision Support Systems. The Chair position will be for a period of 3 years.