Women Scientists in IISc – Dr. Soma Biswas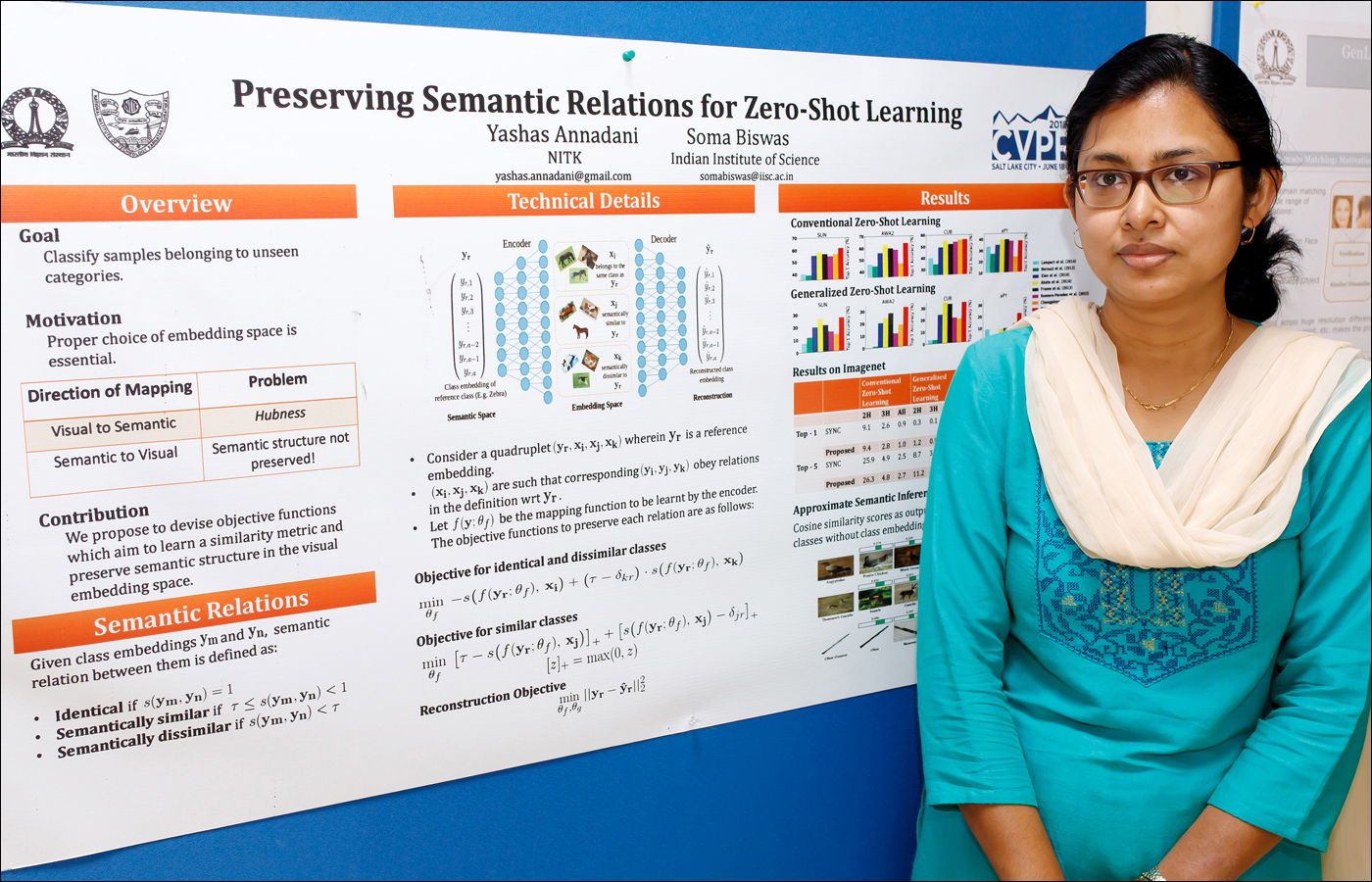 Photo Credits – Mr. Haridasan
Soma Biswas is an Assistant Professor in the Department of Electrical Engineering. She joined IISc in 2013. She did her PhD from the University of Maryland, USA, and worked as a Research Faculty at the University of Notre Dame, USA. Her area of research is Computer Vision and Machine Learning.
– I liked maths and science in school, but never really thought about what I wanted to become later in life and plan accordingly. At every stage, I studied what interested and fascinated me and let life take its own path.
>- Nowadays, large amounts of data are being collected — be it images, videos, or speech — for our personal collection, for sharing with our relatives or for security in common areas such as shopping complexes, airports, etc. It really amazed me to think that so much can be done by just using these data and a computer, which has very important applications. For example, the images can be used to automatically detect intruders in homes or criminals in airports. On the other hand, given an outfit, they can also be used to choose the right pair of shoes to match it. Thus, research in this area can be used from improving the daily life of people to helping law-enforcement officials for critical tasks, which interested me.
– One of the main aims of computer vision and machine learning is to aid humans. But many times, these algorithms appear more like a black box giving some output. In order to accept the output, the algorithm should be able to explain itself and its conclusions, which is a very difficult task. This is very important in critical tasks like medical diagnosis.
– My father's attitude towards life was my biggest inspiration. Irrespective of successes and failures, every day, he went to work with the same dedication and passion and this is what I also try to follow.
——————————————————————————————
Follow your passion, believe in yourself, work hard and everything else will fall in place.
——————————————————————————————-
– I did not have any specific role models in science. But, when I was doing my undergraduate studies, one female professor taught us electrical machines which really fascinated me, since this subject was generally considered not suitable for women. This taught me that we should just do what interests us, and no subject or area has gender associated with it.
– That you are free to explore things that have captured your imagination, which no one has done before, is really satisfying. Every day is a new learning experience.
– I absolutely love the freedom of work that I get here. This, coupled with the beautiful campus and great colleagues, makes this a wonderful place to work. I really look forward to coming and working here every day.
– Many times, administrative work takes longer than normal. This should be made more systematic and streamlined.
– Follow your passion, believe in yourself, work hard and everything else will fall in place.
Click here to view about a few of the Other Women Scientists in IISc/