The Defence Minister of India, Shri. Rajnath Singh, inaugurated the HAL-IISc Skill Development Centre (SDC) on 13 August 2020, in the presence of Shri. Raj Kumar, Secretary, Defence Production; Shri. R. Madhavan, Chairman and Managing Director, Hindustan Aeronautics Limited (HAL) and Prof. G. Rangarajan, Director, Indian Institute of Science (IISc). Also present at the occasion were the Director (HR), Director (Operations), Executive Director (HR), Executive Director (Planning) and General Manager (HR-CSR&FM) from HAL, as well as the Chair of the Challakere Empowered Committee, IISc, and representatives from the Office of Development and Alumni Affairs, IISc
The centre, a product of a unique collaboration between HAL and IISc, will impart high end skills in manufacturing, including in the aerospace sector.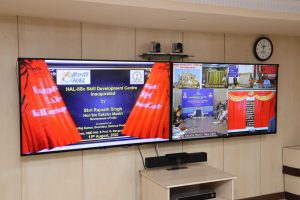 "We are very grateful to HAL for supporting us and partnering with us on this critical national initiative," says Prof. Rangarajan. "We eagerly look forward to working closely with HAL, to realise our shared vision of training hundreds of aspiring young workers and professionals from across the country."
The SDC has been established in IISc's Challakere campus in the Chitradurga district of Karnataka, about 225 km from Bengaluru. It is located on 1,500 acres of land provided by the Karnataka government during IISc's centenary year celebrations. IISc's neighbours in Challakere include national R&D institutions like the Defence Research and Development Organisation (DRDO), Bhabha Atomic Research Centre (BARC) and the Indian Space Research Organisation (ISRO), as part of a science and technology city being developed there.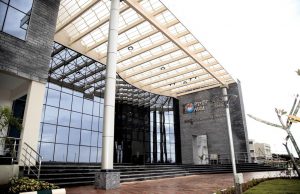 The goal of the SDC is to create a large pool of trained personnel to address vital skill development gaps in our country, crucial for economic growth and self-sufficiency. It is a natural outgrowth of a successful training programme for rural science and mathematics teachers that IISc initiated in 2011 at the Challakere campus. So far, 13,500 teachers have been trained through the programme. It has been expanded to also include college teachers, under the Pandit Madan Mohan Malviya National Mission on Teachers and Teaching.
Following the success of this programme, IISc decided to establish a full-fledged centre that will also focus on skill development. It approached HAL in 2016 with its proposal, and HAL readily agreed to fund and support the initiative under its Corporate Social Responsibility (CSR) programme. The MoU for establishing the centre, with an outlay of Rs. 73.7 crores, was signed on 28 March 2016, and construction began on 27 October the same year.
The SDC includes a 75,000 sq. ft. building with modern labs, class rooms and an auditorium to seat 250 members. This centre can also provide residential accommodation to about 230 trainees and faculty members at any given time.
The SDC has a capacity to train about 1,000 people annually. The philosophy driving SDC is to "train the trainers" who can in turn train more trainees, thus leveraging a multiplier effect. For now, the centre will focus on three areas for skill development: composite materials, sensors and Internet-of-Things (IoT).
The intended target audience for skill development at the centre includes engineers, supervisors and faculty members of technical institutes. Training will cover both skill upgradation and also acquisition of new skills. More than 50 percent of the course duration will be devoted to hands-on learning in well-equipped laboratories. The faculty members for the courses will be selected from IISc and other leading organisations, including HAL.
HAL and IISc share a close relationship that goes back to 1940 when HAL was founded. The Aerospace Department at IISc was set up in 1942 by one of the pioneers of aeronautics in India, Prof. V. M. Ghatage, who was deputed from HAL to IISc. The establishment of the HAL-IISc SDC is a testimony to this steadfast relationship between these two institutions, and their commitment to furthering the growth of science and skill development in India.
---
About HAL:
Hindustan Aeronautics Limited (HAL) is a premier aeronautical complex in Asia with 20 production divisions and 11 R&D centres spread across seven states and nine geographical locations in India. HAL's expertise encompasses design, production, repair, overhaul, and upgrade of aircraft, helicopters, aero engines, accessories, avionics, and systems. The Government of India has disinvested 10.03% equity of HAL, and HAL got listed on BSE and NSE on March 28, 2018.
HAL's manufacturing divisions are equipped with modern infrastructure for production of fighter aircraft, trainers, transport aircraft and helicopters. The current workforce is around 28,000 with over 50% having more than a decade of aircraft industry experience. The Company has also diversified into manufacture and repair/overhaul of Industrial and Marine Gas Turbine engines, and manufacture of structures for satellite launch vehicles.
HAL has so far designed and developed 17 types of aircraft/helicopters, the latest being Hindustan Turbo Trainer (HTT)-40 Basic Trainer Aircraft and Light Utility Helicopter (LUH). The other major ongoing indigenous platforms are single engine multi role Light Combat Aircraft LCA – Tejas, Light Combat Helicopter (LCH), Advanced Light Helicopter variants ALH Dhruv, ALH Rudra etc. In addition to design and development of aircraft, HAL has also developed expertise in aircraft upgrades. In the aero-engine side, HAL is currently working on the design and development of 25 kN turbofan engine (HTFE-25) suitable for business jets, trainers, etc. and the 1200 kW turbo shaft engine (HTSE-1200) for use on helicopters. The UAV programs (both fixed wing and rotary UAVs) are also underway. A Strategic Business Unit (SBU) has been set up for UAVs.
About IISc:
The Indian Institute of Science (IISc) was established in 1909 by a visionary partnership between the Industrialist Jamsetji Nusserwanji Tata, the Maharaja of Mysore, and the Government of India. Over the 111 years since its establishment, IISc has become the premier institute for advanced scientific and technological research and education in India. Since its inception, the Institute has laid a balanced emphasis on the pursuit of basic knowledge in science and engineering, as well as on the application of its research findings for industrial and social benefit.
Contact Information:
Communications: Public Relations Office (pro@iisc.ac.in); Office of Communications (news@iisc.ac.in)
For Technical Information: Prof. B.N. Raghunandan, 91-80-22932498, raghubn@iisc.ac.in
For CSR contributions to IISc: Dr. Ram Turaga, 9448987200, cdc.odaa@iisc.ac.in