Location: J N Tata Auditorium
"Theme: Sustainable Rural Habitat – Returning To Our Roots"
Commemorating the 150th birth anniversary of Mahatma Gandhi and birth anniversary of Swami Vivekananda, the Indian Institute of Science (IISc), Bengaluru will be hosting an All India Youth conference, 'Jagruti'19' on 12th & 13th January 2019 at J N Tata Auditorium, IISc. The conference will be organised by the Students' Council, Indian Institute of Science and Think India. (Click here for the Poster)
The conference is patronised by the following eminent personalities:
Prof. Anil Sahasrabudhe (Chairman, All India Council for Technical Education)
Prof. Anurag Kumar (Director, Indian Institute of Science)
Prof. K. Radhakrishna (Ex-Chairman, Indian Space Research Organisation)
Prof. G. Raghuram (Director, Indian Institute of Management, Bangalore)
Dr Gangadhar (Director, NIMHANS, Bengaluru)
Prof. G. Satheesh Reddy (Chairman, DRDO, New Delhi)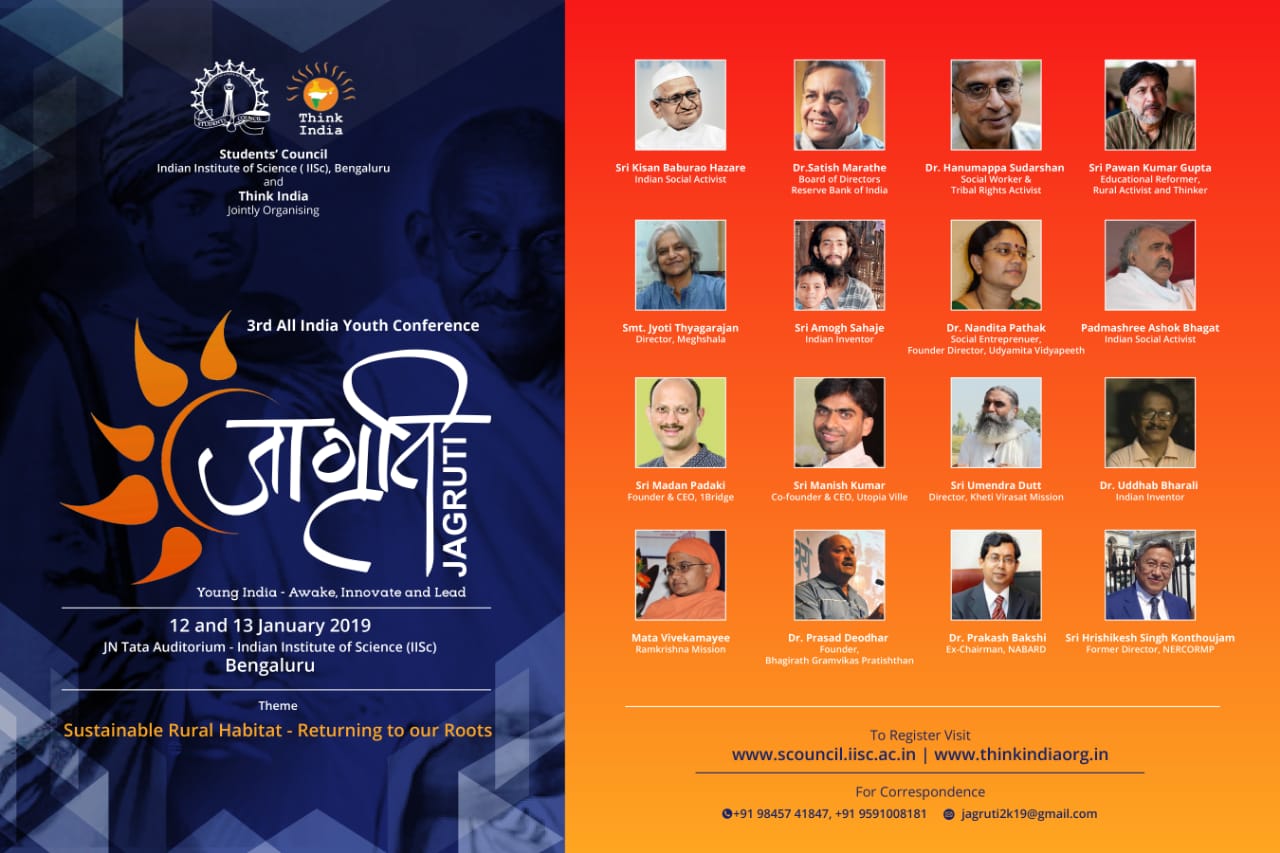 The conference will be a home for two days for the heroes who have received many accolades, nationally and internationally for their efforts, ideas and spirit towards transforming rural India in a significant manner. Participants will get an opportunity to mingle and interact with extraordinary thinkers, experts and intellectuals who will mesmerize you with their perspectives, views, knowledge and experience.
Here is the event in brief:
Eminent personalities like "Anna Hazare", who created a landmark in Independent India by empowering his village "Ralegan siddhi" in all aspects of sustainable development; "Dr. Veerendra Heggade", who worked restlessly towards rural development following the 'Gandhian ideal of rural welfare', are going to grace the event as the chief guests.
In order to figure out the various aspects of rural development, we need to understand the basic components of the rural ecosystem. So, the conference organizes introductory talks on "Rural ecosystem (in the context of): Economy, Health and Education" by experts providing an idea of these components.
Agriculture is the backbone of Rural India but traditionally, it is seen as a low-tech industry with limited dynamics dominated by numerous small family firms which are mostly focused on doing things better rather than doing new things. But over the decades, the situation has changed dramatically and there is a high demand for new entrants, innovations and portfolio entrepreneurship in this field. A panel discussion on "Sustainable Agriculture and Agri-Entrepreneurship" will through a light on it.
"Conversation with Rural Activists" is a session with the stories of real heroes of the society who have dedicated their life towards uplifting others and ensuring that the vulnerable sections of the society are given all opportunities of living a full life.
The key to a developed and prosperous village lies in the sensible and rational use of technology, in harmony with nature. Talks on "Technological Interventions and Field Implementation" will enlighten the gathering with the demonstration of outstanding inventions that can provide low-cost technological solutions to the day-to-day problems in the rural area.
Inspired by the "Green Revolution" a monologue is arranged on "Ecological Sustainability & Food Security". Rural habitats have much more in it than merely infrastructural and material requirements. It is about the transmission of our culture and traditions to generations, they are the sources of the perennial revival of human civilization. The conference will talk about "Culture and Tradition in Rural Area" summarizing the overall impact of "Infrastructure centric development" on rural society weighing in the pros and cons and making the right choices keeping in mind of the social and environmental impacts.
Along with the nationwide competitions (paper presentation, model presentation, documentary and street play) and thought-provoking discussions, the conference introduces the 'Young Achievers Award' to the people within the age of 35 years who have been working on rural development extraordinarily. To motivate the youth of India for stepping towards the 'Sustainable Rural Habitat' we will honour a few 'Role Models' as well.
The spot events "Ideathon" (Where under the guidance of mentor teams have to work on a given problem) and "Consensus" (the event that shows how a collective discussion and discourse about a given problem lead to a feasible solution) will also provide an opportunity to brainstorm new ideas and win exciting prizes.
The registration link will be opened till January 9, 2019. Registration fee: Rs 500 (The conference charges no fee for the students/faculty members and staff of IISc to attend the conference).
Registration link: https://www.cognitoforms.com/Jagruti1/Jagruti2019
Chief coordinators:
Vivek Sharma (chair.sc@iisc.ac.in)
Chairman, Students' Council, IISc
Praveen Srinivas (sfd.praveen@gmail.com)
National Co-convener, Think India
Email: Jagruti2k19@gmail.com